A good email list is critical to every small business and non-profit, so list building needs to be baked into all of your online marketing campaigns.
Unfortunately, your ideal customers have overstuffed inboxes and are hesitant to sign up for yet another email newsletter, no matter how awesome it may be.
So, how do you overcome this resistance?
The secret is to incentivize your ideal customer into signing up. This can be done by creating some type of "email bait."
In this article I'll show you three time-tested, proven methods for getting more email signups from your ideal customers. 
List Building Tactic One: The Gift
The Gift is the perfect approach for most B2B (business to business) companies out there, although it can be used by anyone.
This tactic works best when a prospect visits your website, although you can use a combination of advertising (banners, Goole Adwords, LinkedIn ads, etc.) and landing pages to accomplish the same effect.
Offer a free download from your home page or other web page on your site.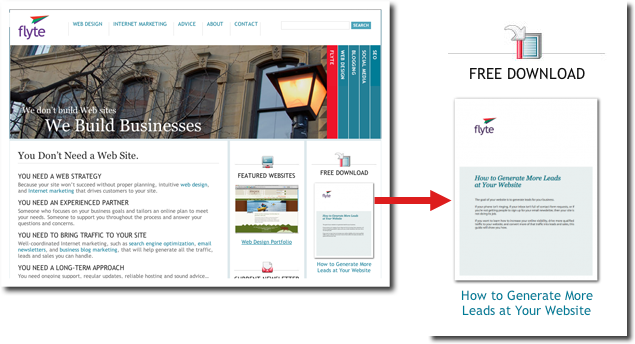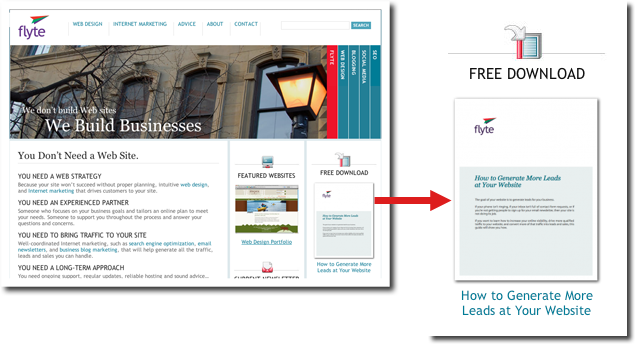 You can either include the email signup form with the offer, or just have the image and text link to another page with the signup form. That's completely your call. You may wish to even test both methods to see which one is more effective for your business.
Here's what you'll need to create the gift exchange:
Create a valuable download. Value is in the eye of your ideal customer, not you. It could be a white paper, a report, a how-to article…and it should address your prospect's biggest challenge.
Upload it to your website. Make sure there are no links on your website to the download. You only want subscribers to have access to this content.
Create an eye-catching visual for your download. This makes it a more attractive offer. Even if it's a simple report, giving it a "physical" appearance will increase your clickthroughs and signups. You can do this yourself with some free software, hire a local designer, or check out Fiverr for ebook cover designers.
Use an email service provider (ESP). I've had good luck with Constant Contact and AWeber, but I know a lot of people like MailChimp because it's free for up to a certain number of subscribers.
Once those things are in place, you're ready to start getting more subscribers.
Here's the order of how the exchange goes down:
A prospect arrives on your offer/landing page, and sees the value in what you're offering. You need to be clear with the fact that they're not just downloading the document, they're signing up for your email newsletter. I recommend turning this into a positive thing, since your email newsletter rocks, right? 🙂"Not ONLY do you get this amazing download that slices, dices and keeps your kids entertained for hours, you'll be subscribed to our email newsletters and get fantastic tips on tricking your kids into eating their veggies…plus you can unsubscribe at any time!"
They enter their email (and maybe name.) I always ask for a name these days, because personalizing emails can greatly increase opens and clickthrough rates.
Your ESP sends a confirmation message to the subscriber. This is a generic message to let them know that they still need to confirm their subscription to be signed up. Don't get too clever here! The important thing is to get them to sign up, not to distract them by being overly funny.
They confirm by clicking on the link in the email. Make sure that confirmation link is "above the fold" in the email to increase confirmations.
Your ESP sends the welcome message. Now that you've got their attention (and email,) you can inject as much personality as you wish into the welcome message. Be funny, irreverent, uplifting, outraged, or whatever best suits you and your company. Most importantly, include a direct link to the download.
If you'd like to see the whole process in action, check out how we did it over at the flyte new media website. Start at the home page, click on the free download graphic, and follow the steps all the way through. (Yes, you can unsubscribe at any time!)
One of the best features of The Gift is that if you create an evergreen piece of content, it can drive subscriptions for years to come. For a few hours invested up front to create that download, you can attract thousands of subscribers which can lead to lots of revenue for your company.
List Building Tactic Two: The Raffle
The raffle works really well with B2C (business to consumer) companies, but can be adopted for B2B as well. After all, what are businesses except people forced to do trust falls by evil HR consultants?
Where The Gift is something you can afford to give to every subscriber, The Raffle allows you to offer bigger rewards that you can't afford to give to everyone.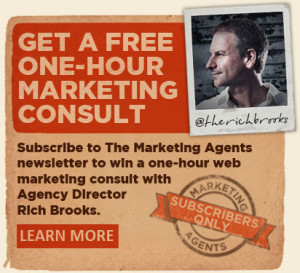 We use The Raffle here at The Marketing Agents (at least at the time of the writing of this post.) Everyone who enters has a chance at our weekly drawing for a one-hour social media and web marketing consult.
One big advantage that The Raffle has over The Gift is that it offers an added incentive for your prospects and customers to stay subscribed. (Assuming that the raffle repeats.)
For example, every week we offer the one-hour consult. As long as people stay on the list, they're entered to win. However, once someone has downloaded The Gift, they can unsubscribe without losing anything (except more of your amazing content.)
The setup and signup process of The Raffle is similar to The Gift.
There are a number of ways to select your winner. Here's how I do it for The Marketing Agents.
I go to my email service provider and download my current email list as a CSV (comma separated values) file to my computer, open it in Excel, and see how many subscribers are on the list. Let's say there's 1,432.
I go to Random.org and change the defaults to a number between 1 and 1,432. Once I get my number (say it's 244) I go back to my list, locate row number 244, and I have my winner.
I also have a list I keep on Evernote of past winners, so I can make sure the same person doesn't win twice. If they do I'll just run back to Random.org.
I announce the winner in an email I send out on Monday, which also serves as a reminder to people that there's a benefit to staying on the list.
List Building Tactic Three: The Discount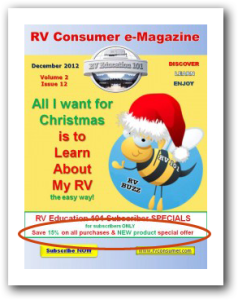 The Discount works well for any retailer, whether your store is online, offline or both.
In this e-commerce focused approach, you promote your email newsletter as a way for people to get special discounts only available to subscribers.
People love preferred treatment and saving money, so this is a double-whammy. 
This can be done with printable coupons that can be redeemed in the store (or mobile friendly coupons which can be flashed or scanned from a customer's phone.)
For online stores, you can create discount codes and only publish them in an email newsletter.
Depending on your software, you can embed discounts into the link in your email newsletter that goes to your online store. What's cool about this is most ESPs have a feature where you can create targeted lists automatically, made up of people who clicked on a specific link.
Let's say you owned a pet store and had an e-commerce email newsletter. In one email you offered subscribers discounts on some products from your online store, including a lemur collar. You could then get a report from your ESP of who clicked on the lemur collar link, and then send that targeted list lemur-specific offers, without overwhelming the cat and dog owners on your list.
The Takeaway
Your ability to communicate quickly and efficiently to a growing number of prospects, customers and clients is essential to the success of your small business or non-profit.
Because of email attrition–unsubscribes, abandoned email addresses, "improved" junk filters and newsletter fatigue–you'll need to continually attract new subscribers.
You'll want to incentivize your website visitors to subscribe to your list. While good content is critical to keep people subscribed, you'll need some email bait to capture them in the first place, and introduce them to your amazing content.
Three proven email list building methods are:
The Gift (something you can give to everyone),
The Raffle (something that is offered to one or a few subscribers at a time), and
The Discount (regular discounts in your online or offline store.)
How about you? What's your email bait? Please let us know in the comments below, and let us know where we can find it on your site. (Yes! You can even include a link to your site. Otherwise, how could we find it?)
Was this article helpful? If so, please consider sharing it with your network or emailing the link to a friend.
And, have you signed up for our email newsletter yet? Great content delivered to your inbox a couple times a week, plus you'll be entered to win a one-hour social media and web marketing consult!