You know blog marketing is important, but do you feel like your blog isn't bringing in enough traffic? Or getting enough engagement from your audience?
I want to walk you through the process I often take when creating a blog post. I'm actually writing two posts right now…this one and the one I'll be using as an example.
I decided to write a blog post on content creation, something we all struggle with. It was going to be a numbered list, (yeah, yeah, I know, you hate numbered lists) with some ideas on how to find new ideas for blogs, online video and email newsletters.
I've done similar articles in the past, but nothing for my new venture, The Marketing Agents, so I decided to jump in.
Blog Marketing: Start with the right keywords.
I recently installed the WordPress SEO by Yoast plugin, replacing my previous "go to" SEO plugin, All In One SEO Pack plugin.
After clicking "new post" I scrolled down to the Yoast plugin and entered "content creation" into the Focus Keyword field. I saw a bunch of related keywords, including content creation tools, services, companies, strategy and more.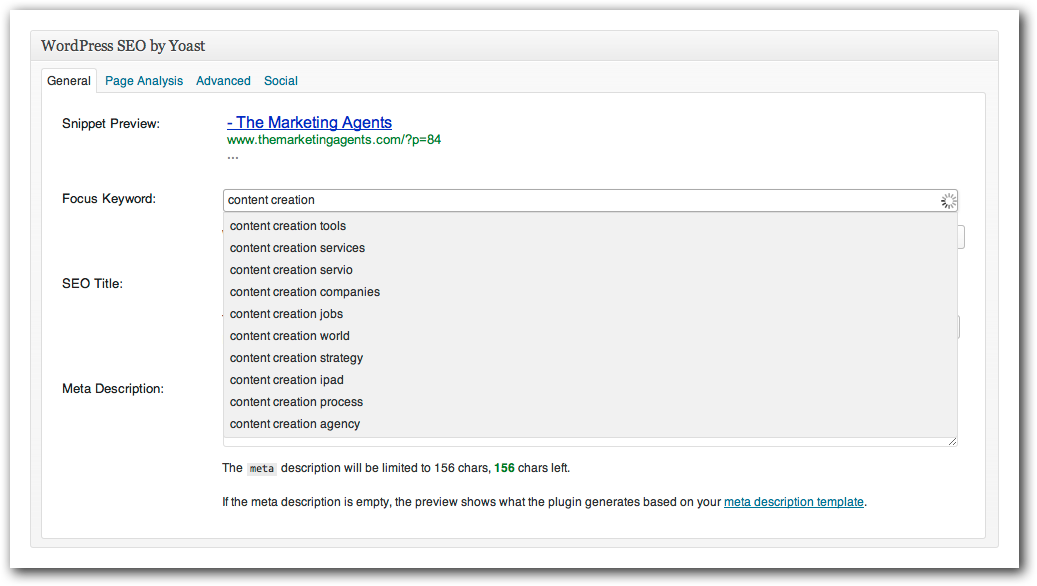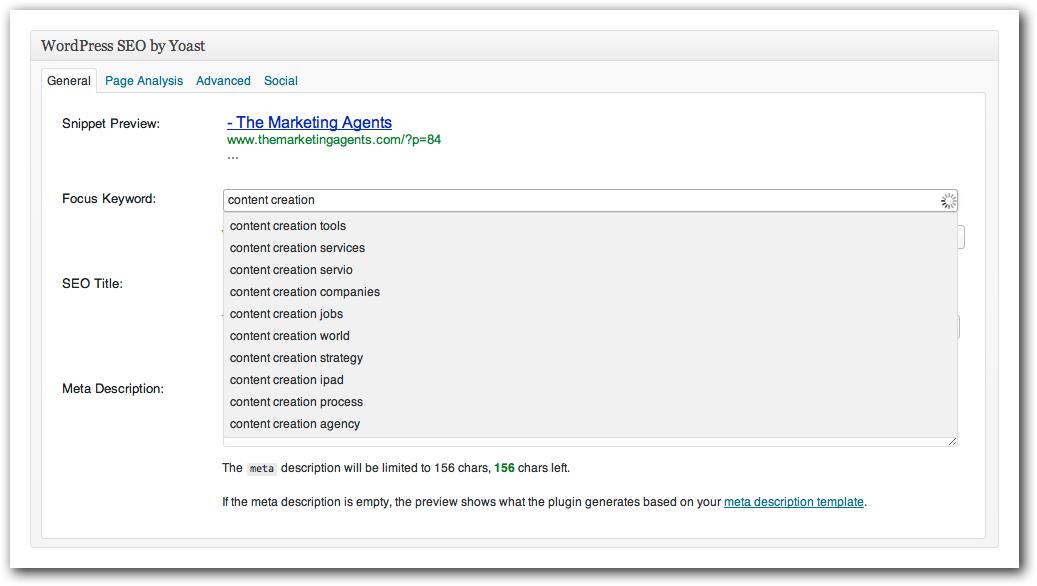 After realizing there were a few ways I could go with this, I went over to Google Adwords Keyword Tool for some more ideas.
I entered in just "content creation" and chose [Exact] and "Phrase" from the Match Types, deselecting Broad.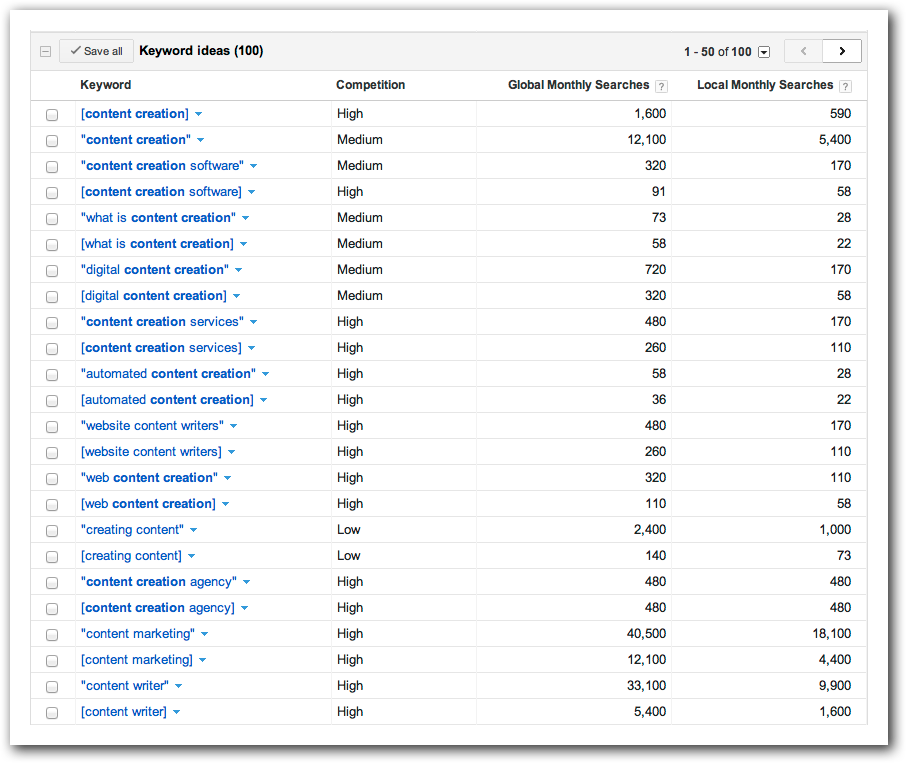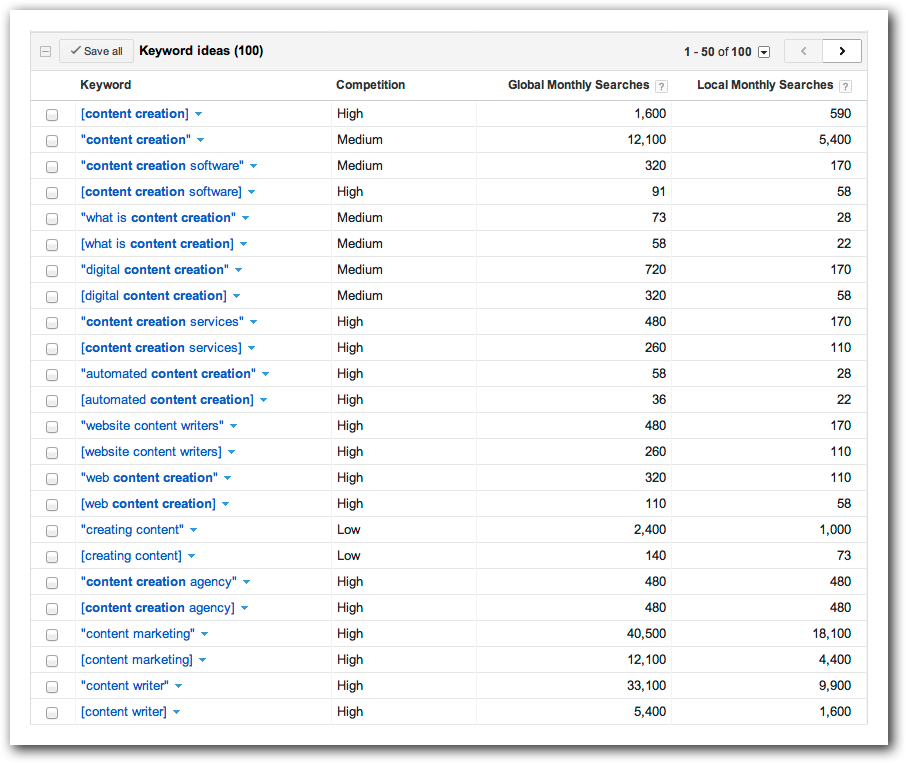 From there I scrolled down the list, looking for terms with good search volume.
Certain phrases jumped out at me: "content creation", "digital content creation", "creating content." All would be worked into the blog post.
However, "content/article writing" and "content marketing" blew the others out of the water for search volume. Also, "content development" did well with low competition. Something to keep in the back of my mind.
Create a keyword-rich, compelling title.
The blog post title started to form: "Content Marketing: 13 Ideas for Writing Content Your Audience Wants to Read Today."
I chose to lead with "content marketing" because you should always try and put your best keywords up front. Even though "content writing" had more search volume, I preferred the term "content marketing" for several reasons, including the idea that some content creation is video or audio.
SEO is an essential ingredient of content marketing, but it's not the whole recipe. [Click to tweet!]
Support your title with complimentary copy.
I then went to work the keyword into the first sentence or two. Because I sometimes struggle with working the keyword phrase into the opening sentence in a natural way, I use the following tactic: I lead with an overview of the post. If I can't work my keyword into the overview, then chances are, that's not what the post is about anyway.
Throughout the 13 content creation ideas, I worked in a variety of the best keywords I uncovered. I also scrambled the order, talking about content writing, writing content, article writing and how write articles. 
This wasn't just to avoid some SEO penalty. While some repetition helps get your message across, too much comes off as forced, redundant, and doesn't read well. 
Use images appropriately.
I used an image for each resource I provided. Each image was appropriate, and often a screen capture to better explain my point. 
I saved the image with an appropriate name, such as google-analytic-queries.png. I also gave the image an appropriate title and alt tag through WordPress. 
Honestly, I'm not sure how much impact this has as far as the post's search engine visibility goes, but I've definitely seen traffic come to flyte's web marketing blog because of Google image searches, so for an extra minute of work, I feel it's worth it.
I also like using an image at the top of a post. Although I've been doing that for years, I was glad to see Derek Halpern provide scientific evidence why this is beneficial in his post How Images Improve–or Destroy–Conversion Rates.
Also, because so many marketers use Pinterest these days, I've been including an image that also comes with descriptive text, so that if someone does pin an article for later reading, the image alone will remind them why they pinned it.
Will this lead to more pinning and repinning? Time will tell.
Run your post through WordPress SEO by Yoast.
Or whatever you favorite SEO plugin is. It's always good to get a second opinion. Although these tools are just that: tools, they can uncover some opportunities you may have missed. 
Yoast's plugin, for example, will remind you about using images that include alt tags with your target keyword in it, count the number of outbound links, and review your meta-description, among other items.
Create more engagement.
I've never been great at getting a lot of comments on my blog post, (except those few times when I accidentally brush up against religion or politics), but I do know that when you ask for feedback you get more of it.
Another trick for increasing engagement is something I learned from Amy Porterfield this past year. 
I've always offered an email version of my blogs, in part because RSS readers never caught on the way we hoped. My entire blog post was included in the email version, but Amy's approach was different. 
She had a short, friendly message teasing the content with a link to her blog. Since she wasn't selling ad space on her blog I didn't understand why she just didn't put the post in the email. My belief had always been, "I don't care where you consume my content, as long as it gets to you."
She told me that when people come to her blog they're more likely to comment or share the post with their friends through sharing buttons.
So obvious, right? 🙂
Blog Marketing Takeaways
If you've been blogging for a while without the results to show for it, making some minor changes in the way you approach blogging may make all the difference.
Start with some keyword research.
Create a keyword-rich title.
Back it up with related, focused content.
Use images appropriately.
Get your audience commenting and sharing.
Do you have any other tips you want to share on how to build a better, more effective blog post? Please do so in the comments below!
(See what I did there?)
Photo Credit: Raúl Hernández González