You've been told that content marketing and article writing is critical to your online visibility, but you have no idea what content to create.
In this post I'll share with you thirteen content marketing resources that you can use right away to generate unlimited ideas for content that your ideal customer needs now, next week, and into the future.
Content marketing is not about creating large quantities of content, it's about creating the right type of content. That means your content needs to answer the biggest questions your prospects are Googling or asking their friends on Facebook.
The thirteen resources below are all about creating the type of content that attracts prospects, establishes you as an expert, and generates more online leads.
1. Google Analytics Search Query
If you already have a website or blog running Google Analytics, there are some great reports for content marketing you can leverage.
If you're not, I recommend breaking into your competitor's Google Analytics and using their numbers.*
Under Traffic Sources >; Search Engine Optimization you'll find the Query report. According to Google, "this report displays the top 1,000 daily queries (by clicks) that resulted in impressions, clicks and click-throughs to your website."
I use this report two ways: first, in its default state. It's sorted by impressions: the number of times any page of your site appeared in the search results for that search. Now, I believe appeared may be misleading. If my site holds the 200th position for a given search, I doubt it's appearing in front of any human's eyes.
Still, I scan the list for content writing opportunities.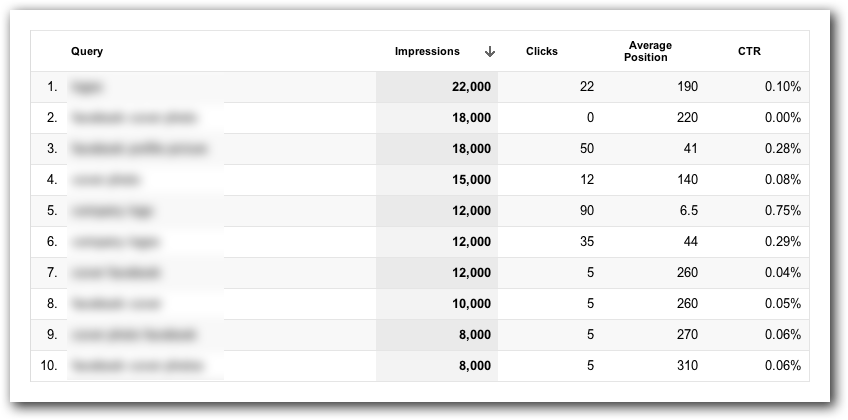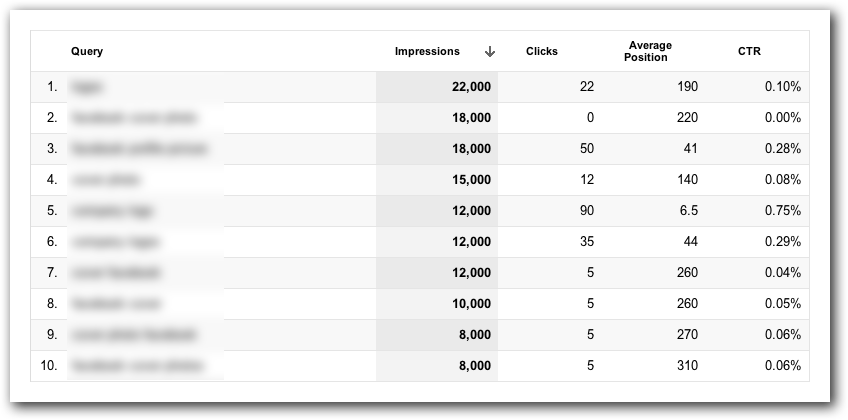 The second way I use the Query report is by resorting by Average Position. I click that twice, so that the list is sorted by the terms I rank best for. I skim past my number one rankings (no chance of improving on a number one search ranking), and focus on phrases with decent impressions where I don't top the search results.
These represent topics that a good number of my audience are probably interested in. With a little push, (read: another blog post or video) I could make my way to the top spot. The difference between first and second position is often three times the traffic volumeto your website or blog, so this makes a huge difference.
For more details on how the Query report works and how to use it, check out the article Uncover Which Keywords Will Drive More Qualified Traffic to Your Site.
2. Google Adwords Keyword Tool
I don't want to lean too heavily on "The Google," because I could have easily made this post "13 Keyword Generation Tools from Google." (Hmmm…perhaps another time.) However, Google's Keyword Tool is indispensable for content marketing, especially as SEO is concerned.
Enter in a series of keywords you think would be of interest to your ideal customer, and Google provides immediate stats: how many people searched on each keyword and how competitive each keyword is.
In addition, Google will suggest related keywords that might have higher search volume, keying you into topics that are of the most interest to your audience.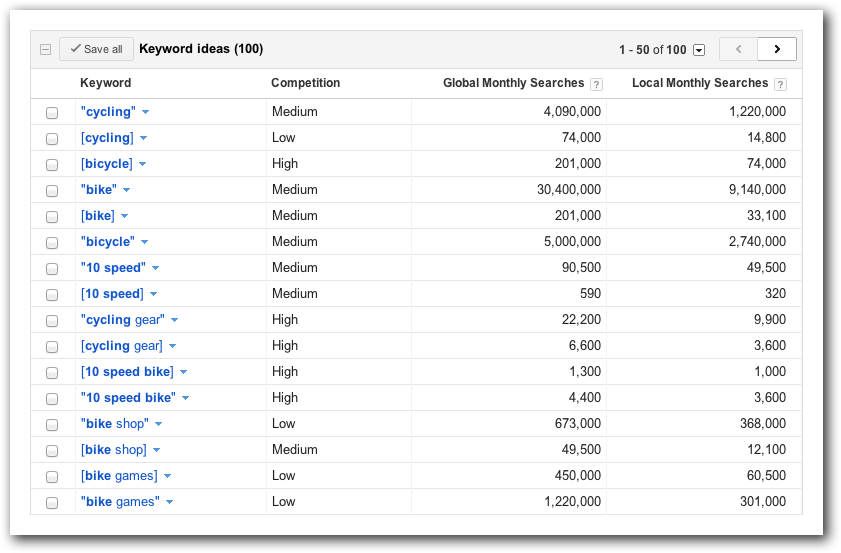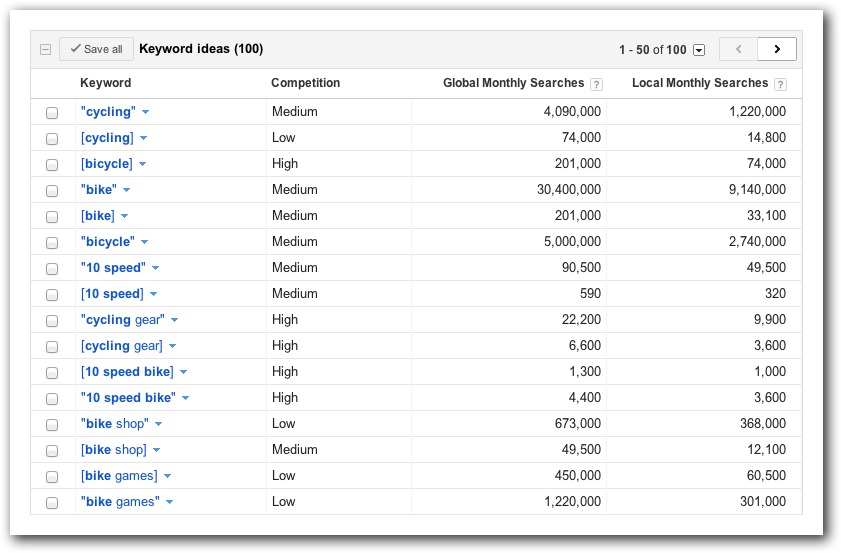 3. Content Idea Generator V2
Content Idea Generator V2 is an amazing content creation tool. Save a copy of this Google doc to your own account to get started. Enter in your topic of choice and watch as news, videos, tweets and other articles on your topic appear in this amazing spreadsheet.
This is a great resource for finding fresh approaches to content you may have already covered, or coming up with a seasonal twist on things.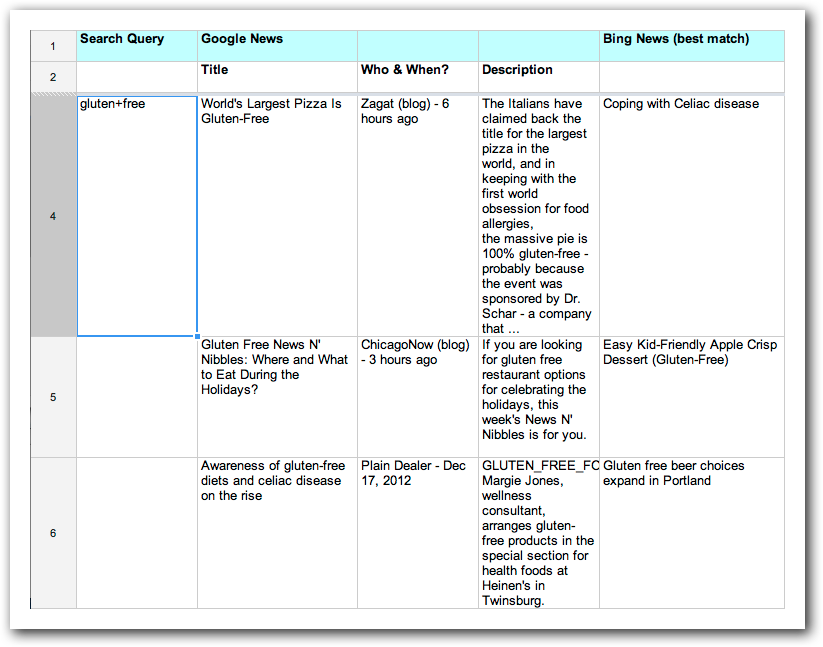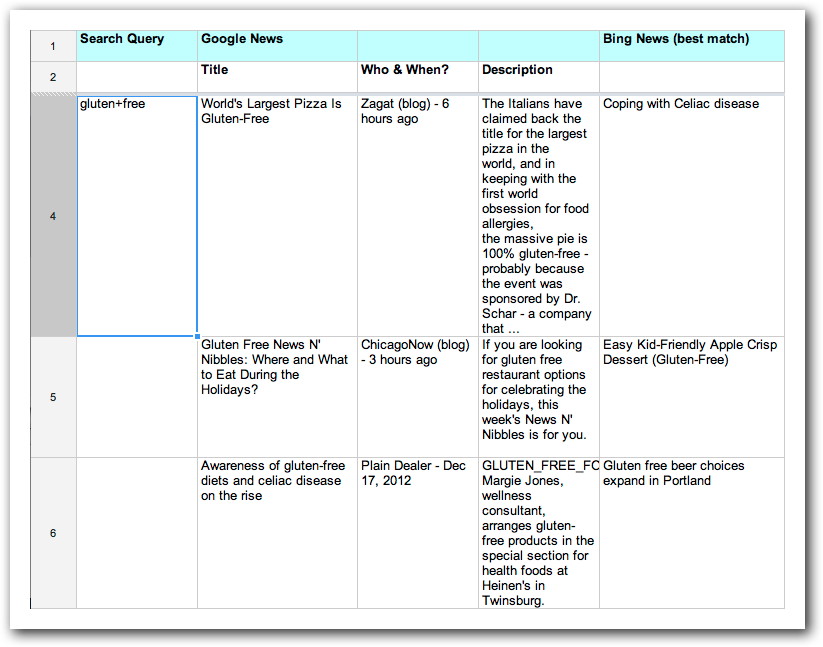 4. Wikipedia
Wikipedia offers multiple ways to generate content ideas. Search for any topic you cover in your blog or business.
Start with the topic's Table of Contents. This immediately gives you an overview of the most important themes of your topic, and gives you talking points you can begin writing about.
Scroll down to the See Also section for suggestions on related topics at Wikipedia. You can use this list for content marketing ideas, or click through for even more topics and more depth.
Finally, check out the References section. These offsite resources are a gold mine of additional writing ideas.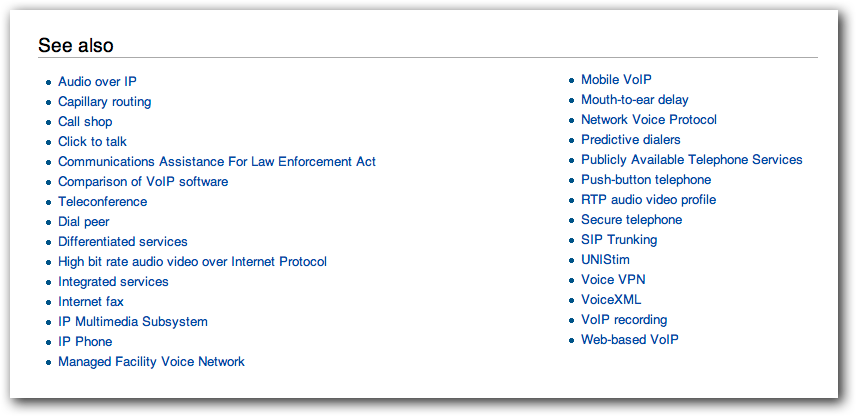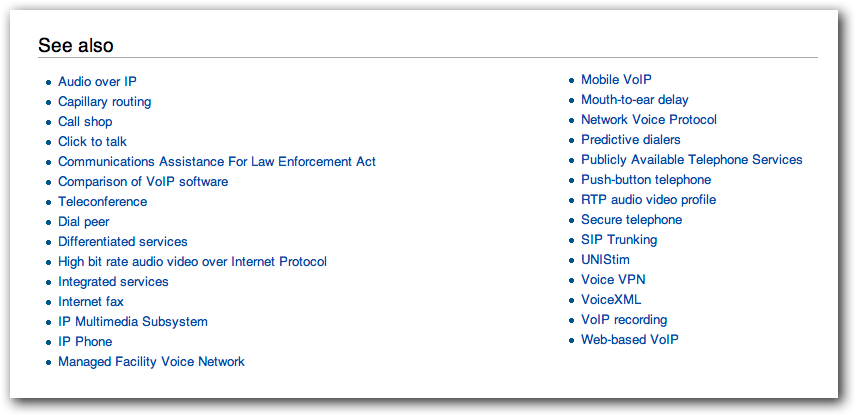 5. Email Questions
If you've been in business for any length of time, your customers and prospects are emailing you questions.
Rather than just providing an answer for one person, you can provide the same answer to hundreds or thousands of potential customers by creating a Dear Abby style post from the question.
Think about it: that one person knew who to ask, but most people have no idea…they just go to Google or Bing and ask there. The closer your post matches the search someone does, the more likely you are to rank well for it.
Once the blog post is up, send a note to the person who first asked you the question thanking them for the answer, and sending them a link to the article. (If the question was about bed wetting, don't use their name.)
Of course, these don't need to be limited to email questions. Ask your sales team and front line crew what types of questions they regularly hear from customers to generate more content ideas.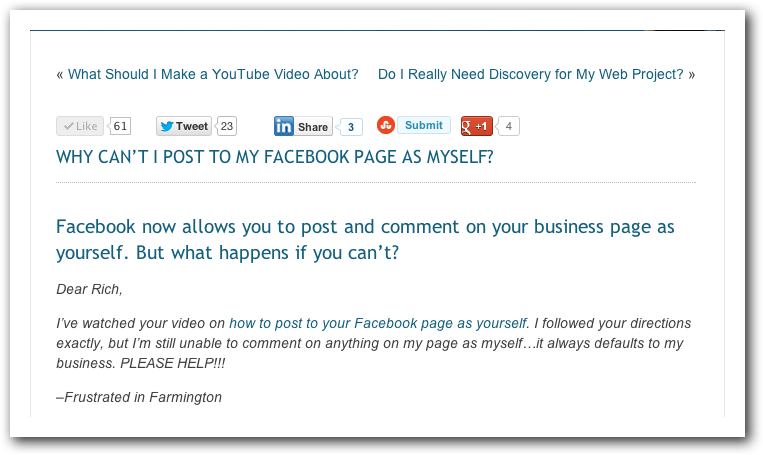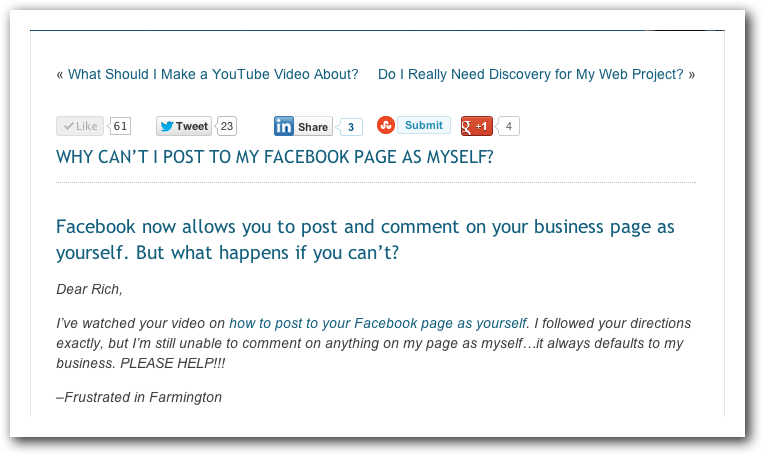 6. Product or Book Reviews
Chances are, if you're serious about your business, you're constantly testing out new products or reading industry books.
Since you're already doing that, why not turn it into a blog post?
Product review posts can highlight products you sell, or ones that you use for your business. You can do straight up reviews, or link to online stores like Amazon who offer affiliate programs.
Your blog subscribers will appreciate that you're doing their research for them, and casual searchers will be drawn in as your blog post mentions the product they're researching by name.
One additional bonus that many bloggers have experienced is that companies may often send you free product to review. (Your ethics and the law may require that you disclose this.)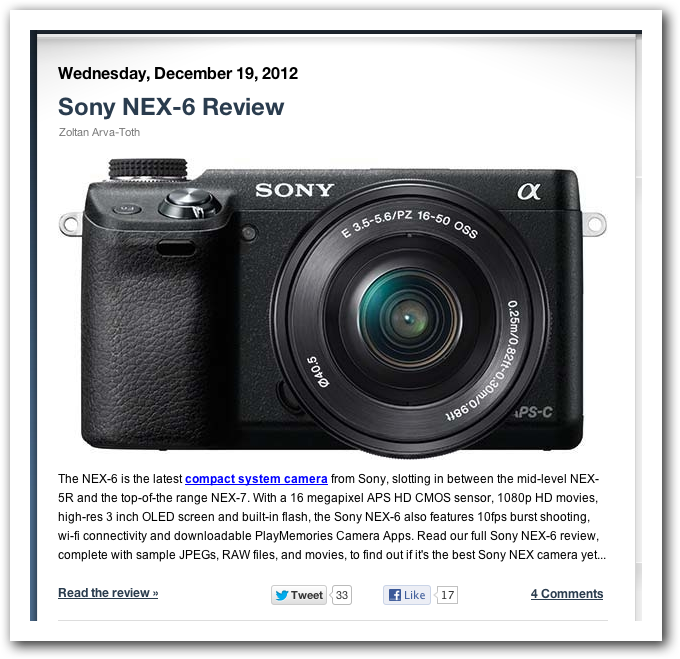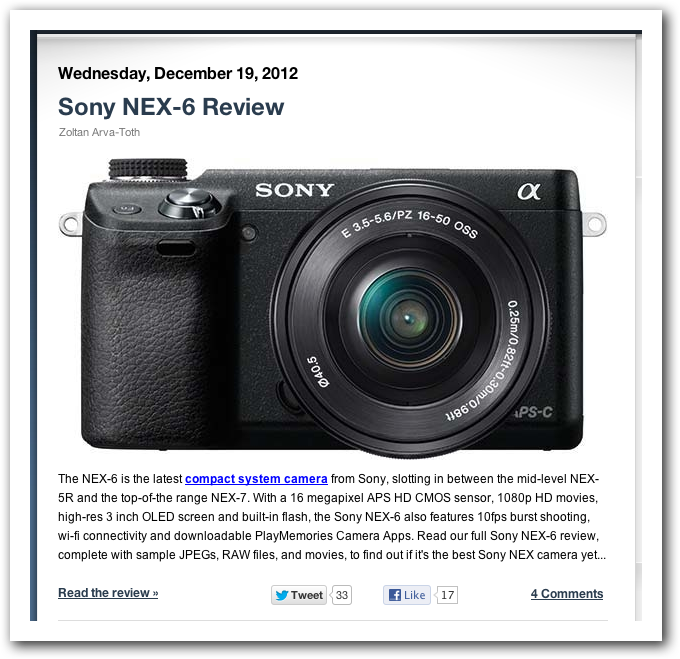 7. Suggested Search
You've probably noticed when you start to type something into a search engine that you're prompted with some suggested search queries. These suggestions come from commonly asked questions, meaning they're almost guaranteed to be good content for your blog.
While Google and Bing both offer this service, I personally prefer YouTube's search because it generally offers a lot more suggestions.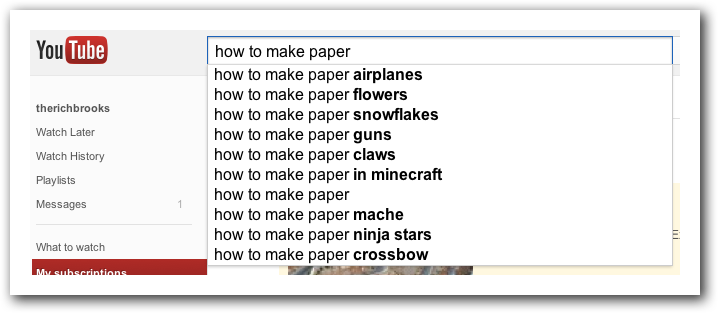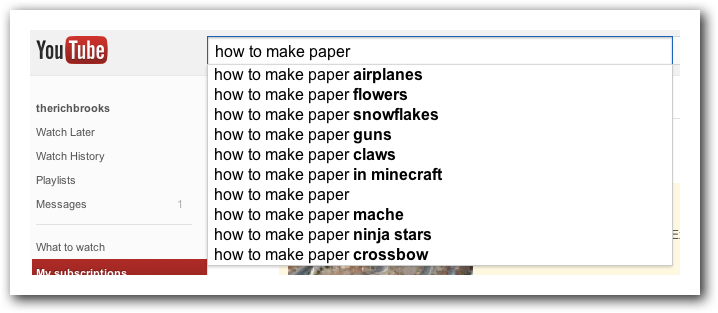 8. Keyword Questions
Keyword Questions from WordTracker continues to be one of my favorite tools. You can try it for free, and pay if you like it and plan on using it often.
Enter in your keyword phrase (the broader the better) and Keyword Questions will bring back related questions from its partner search engines. Like suggested search, there is a proven market for the answers to these questions.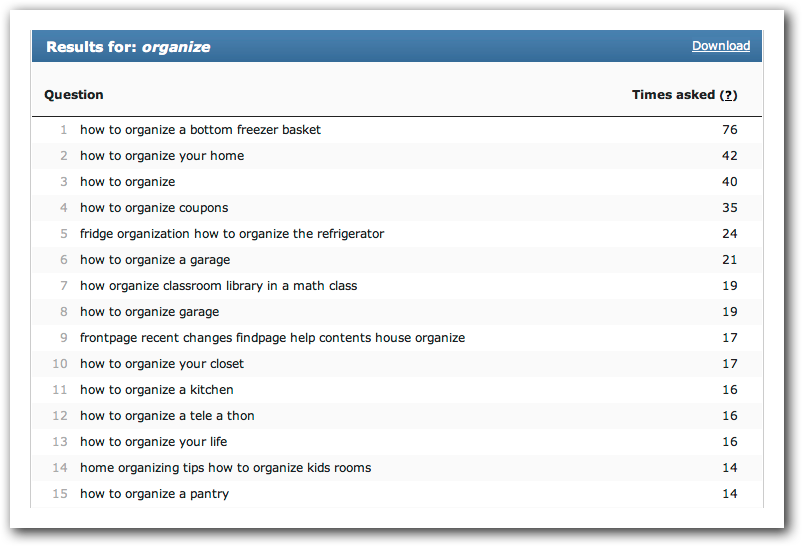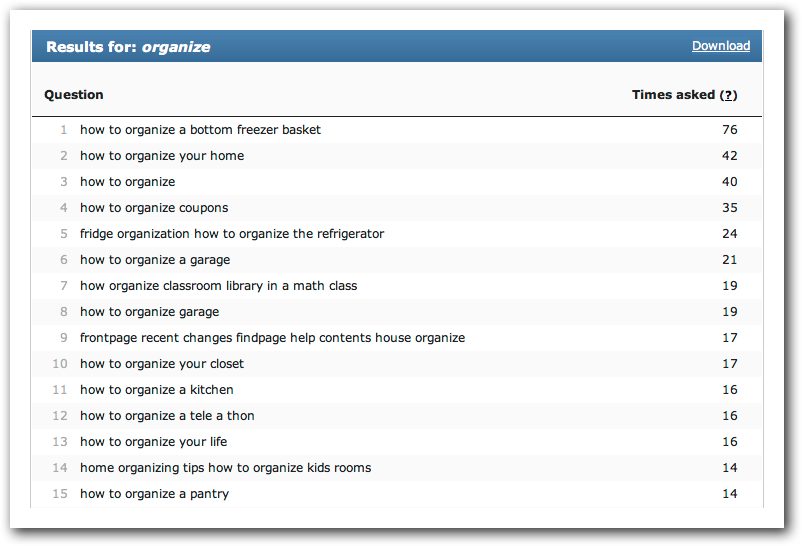 9. Discussion Forums
Every industry has its own discussion forums, often several. You can also turn to Quora, Yahoo Answers or LinkedIn (either the groups or Answers section).
Each forum has hundreds–if not thousands–of questions that have been asked and (usually) answered in your area of expertise.
Please note: I'm not suggesting that you steal anyone's content! Rather, that you take someone's question and answer it in your own voice, from your own perspective, based on your own experience.
Chances are you know more than the bozos who hang out in discussion forums trolling for noobs anyway, right? 😉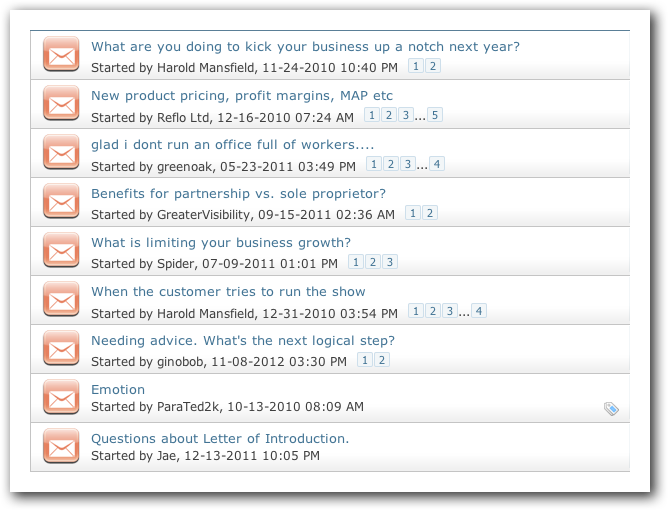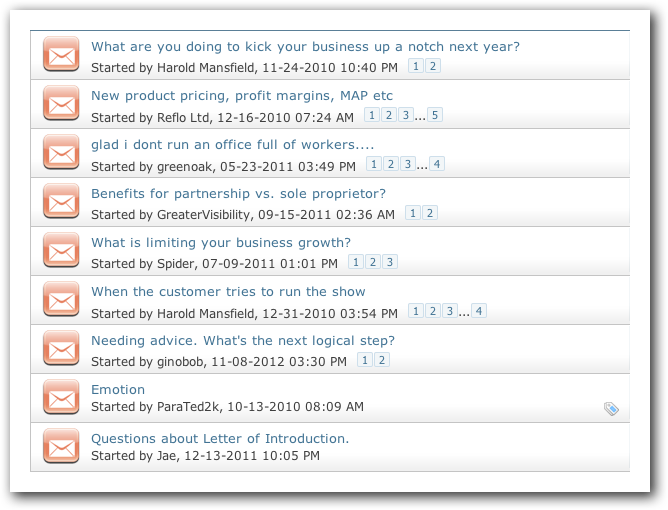 10. Blog Comments
There are plenty of popular and influential blogs in your (or related) industries that garner dozens or even hundreds of comments per blog post.
We hate those people.
But I digress. What I mean is that there's a lot of follow up questions in the comments section that don't get responses.
Again, more questions from your ideal customers. You can answer these questions in a blog post, and you might even want to reach out to the commenter (publicly or track them down via their username), with a link to your new post.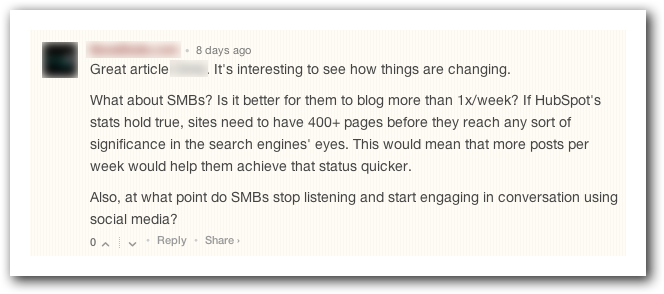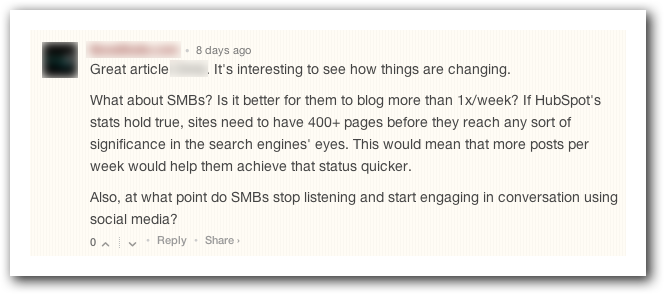 11. Amazon (See Inside)
Search Amazon for books in your industry, and then use the (See Inside) feature to get to the table of contents.
The chapter listing is a treasure trove of great content creation ideas.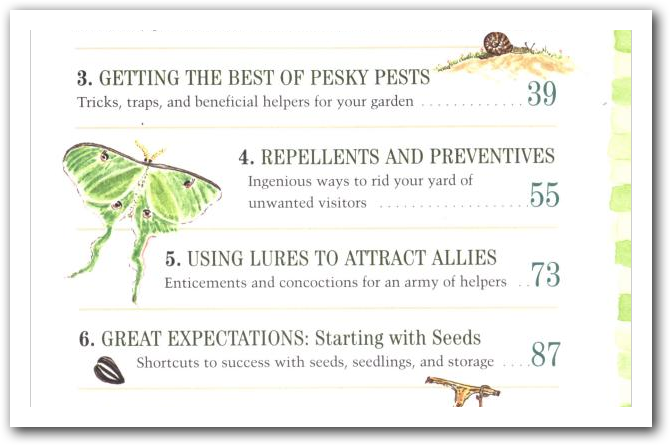 12. Slideshare
If you've never been to Slideshare, it's like YouTube for PowerPoint presentations.
Do a search on the topics you want to cover in your blog and find appropriate slidedecks. From there, search for inspiration either form the the presentation as a whole, the titles of presentations, or individual slides.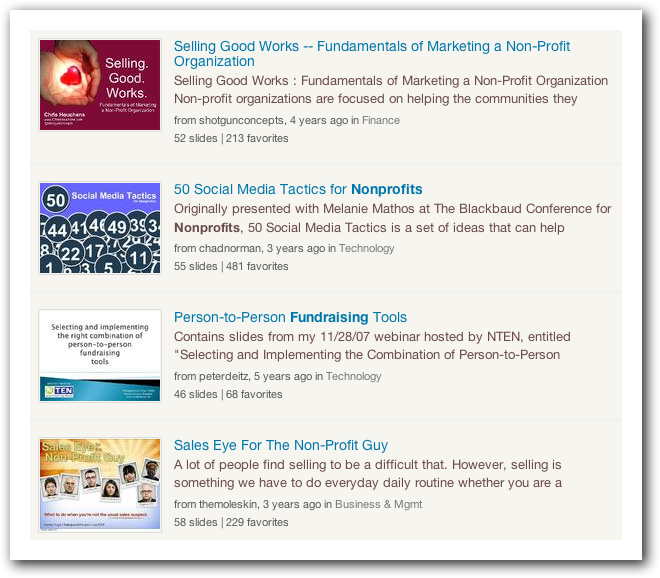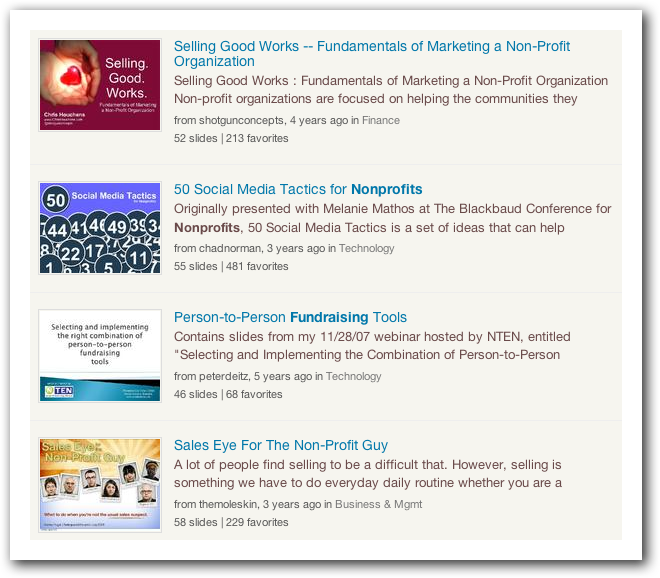 13. Customer Surveys
If you already have a customer database, why not ask them what they're struggling with and what their biggest concerns are?
You could set up a simple, free survey at Google Docs and send them all a link. Here's a how-to setup a free survey at Google Docs tutorial I made.
Or, just ask them to reply in the email with their answer to make things even easier for them.
If you don't have a decent sized customer database yet, there are still ways to do some research:
Attend local networking events and ask people face-to-face
Visit appropriate discussion forums and ask people
Add the question to your contact forms and the welcome letter to your email newsletter (you do have an email newsletter, don't you?)
Content Writing Takeaways
Content marketing isn't just about cranking out articles, blog posts and video. It's about crafting content that your audience wants to read, share and put to use.
Use the thirteen resources above, do your keyword research, and spend time creating amazing content that will thrill your audience.
If you found any of the resources above valuable, please share this article with a friend or with your social network.
If there's a resource you particularly like that I didn't include, please feel free to suggest it in the comments below. I do read every single comment and I'll respond and react to as many as I can.
*JK