From there to here, from here to there, lame Facebook pages are everywhere.
— Not Dr. Seuss.
Although there's a lot of complexity in Facebook marketing these days, creating an engaging, irresistible business page can be fairly straightforward, as long as you have a guide.
To that end, I've created a eight point checklist–from soup to nuts–to help you create a Facebook page that builds your business. 
1. Claim a Facebook Vanity URL.
Let's start with the basics.
In this day and age, having a Facebook business page without a vanity URL is like using an AOL email address on your business card: it screams "I don't know what I'm doing here!"
Um, you don't have an AOL email address for your business still, do you? 😉
What do I mean by a vanity URL? 
By default, your business page resides at a URL like www.facebook.com/pages/mybusinessname/4939329299
Not easy to remember, or to print on your stationary.
Instead, you can–nay need to get a branded URL that's easy to remember. Something like www.facebook.com/mybusinessname.
If you're still hanging out on Facebook with a non-branded URL, head on over to https://www.facebook.com/username and claim your vanity URL (assuming someone else hasn't snapped it up yet.)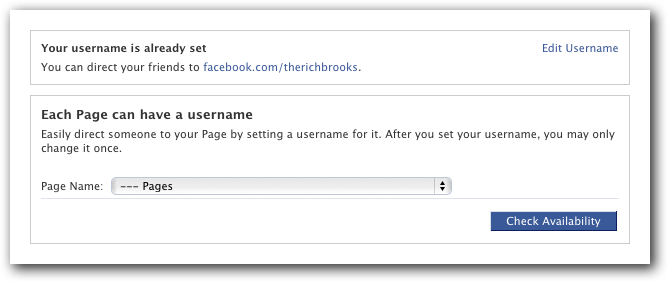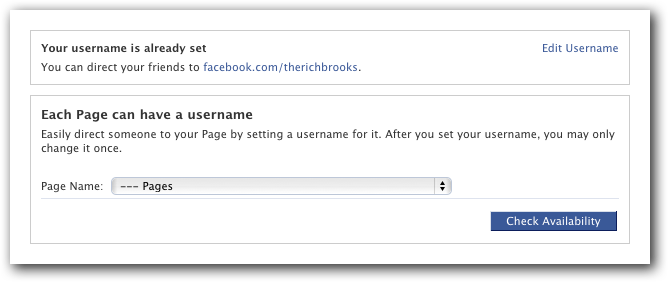 Choose wisely! Once you've chosen your vanity URL you can only change it once, according to Facebook.
If your trademarked name is already taken, you may be able to get it back. Check out this post from Social Fresh on how to claim a trademarked but already claimed Facebook username (#3 on the list.)
2. Choose a Kick-Ass Cover Photo.
First, the specs: cover photos need to be 851 pixels wide by 315 pixels tall, and keep in mind that you're going to lose a little real estate to your profile photo, so plan accordingly (see below.)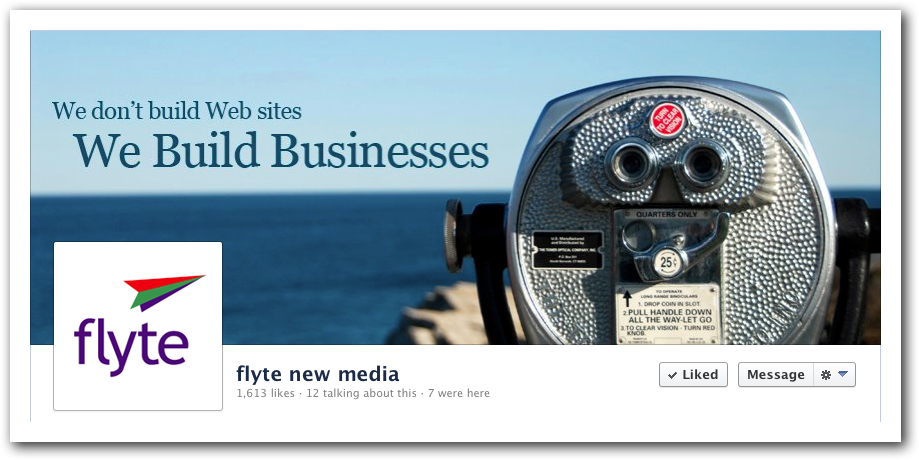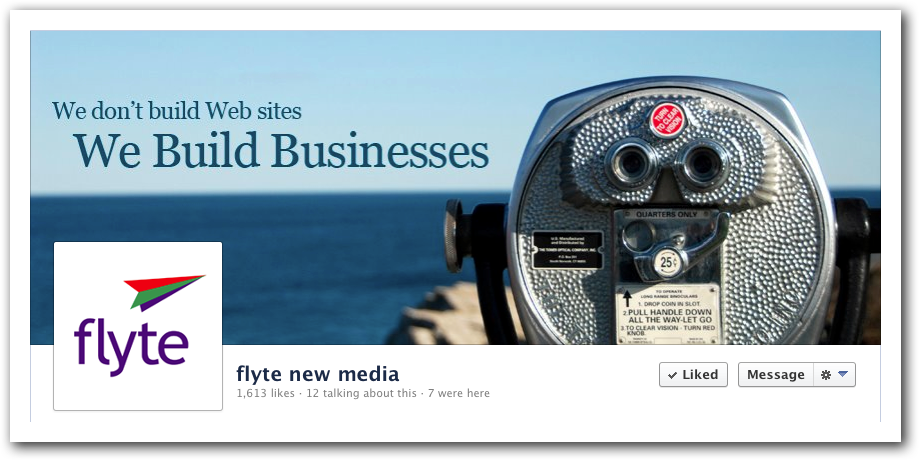 You should choose an image that represents your brand, and I'd strongly recommend using some of the same imagery that appears on your website or blog.
This way, if people follow a link from your Facebook page to your website, they won't be confused to where they are, or if they followed the correct link.
Always be consistent with the branding of your social media profiles! This is especially true with Facebook, Twitter, and YouTube.
Facebook has recently updated it's rules for cover photos:
All covers are public. This means that anyone who visits your Page will be able to see your cover. Covers can't be deceptive, misleading, or infringe on anyone else's copyright. You may not encourage people to upload your cover to their personal timelines. Covers may not include images with more than 20% text.
That change seems to allow calls to action (like us, visit our website) and promoting discounts (25% off in our online store!) which previously had been illegal.
There's some additional information at the Ignite post, New Facebook Cover Photo Rules Create Opportunities for Brands and at Inside Facebook.
3. Get a Profile Photo That Looks Good at Any Size
Facebook recommends you upload a photo that's at least 180 x 180 for your profile, and at the top of your business page it displays as 160 x 160.
Many small businesses use a photo of their storefront, perhaps to show that they're a legitimate business.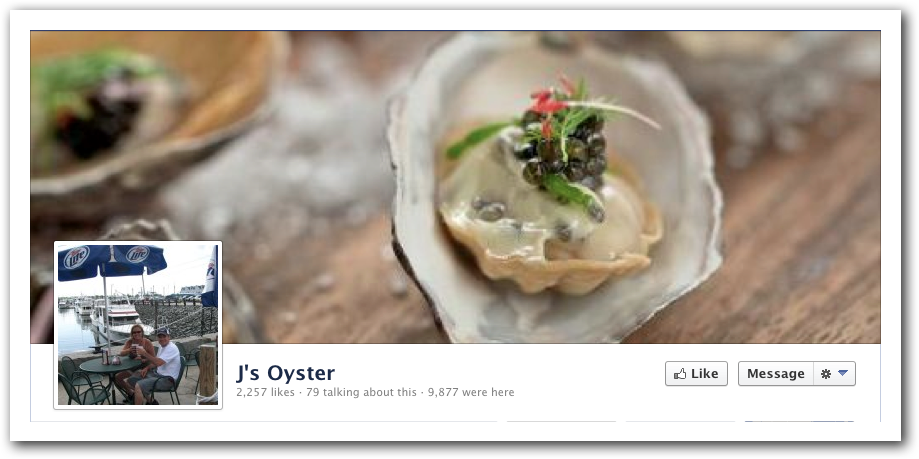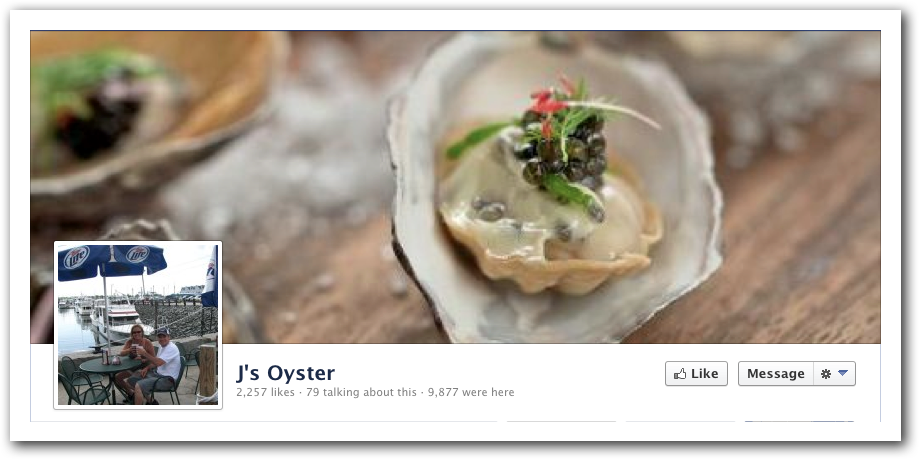 Terrible idea! 
The problem is that on your wall and in the newsfeed, that profile pic displays at a tiny 50 x 50 pixels, or even a minuscule 32 x 32 pixels!
At that size, EVERY storefront looks like every other in the world.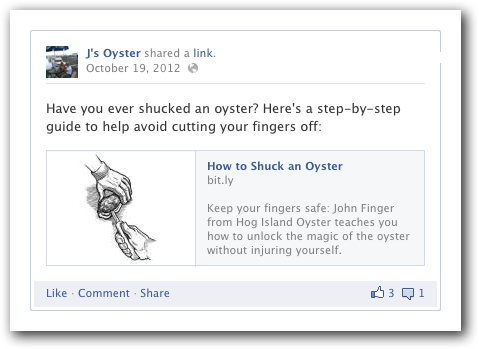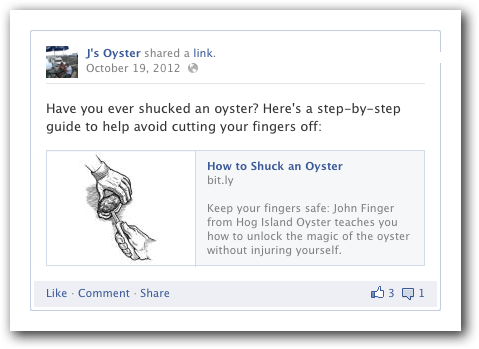 (BTW, if you're ever in Portland, Maine, be sure to check out J's Oyster; it's a great little seafood joint on the water, regardless of their profile pic.)
Every time you post or comment on Facebook, it's like getting free advertising. Use an easily recognizable image like your logo that looks good at any size.
4. Leverage Custom Tabs for Likes & List Building
Facebook provides us several custom tabs on our business page, but too often small businesses don't take advantage of these branding and list building opportunities.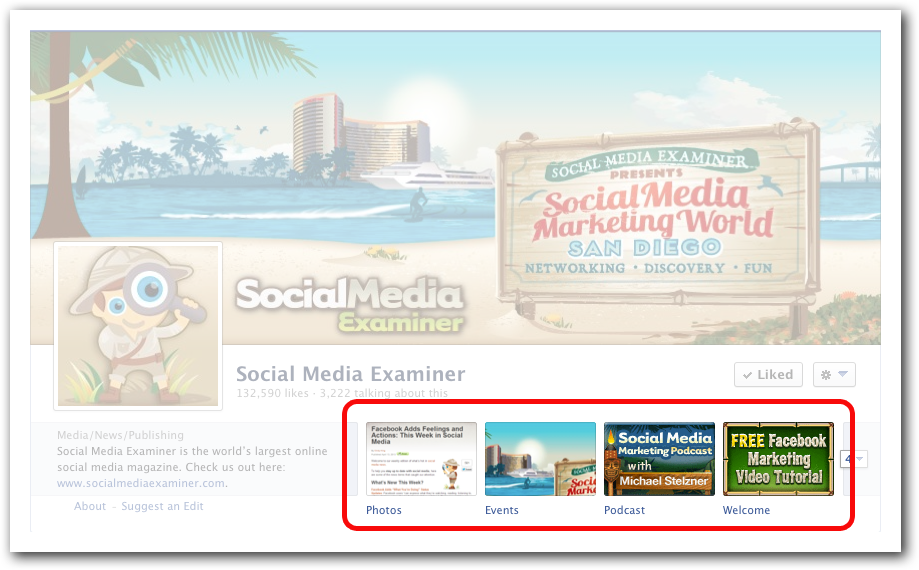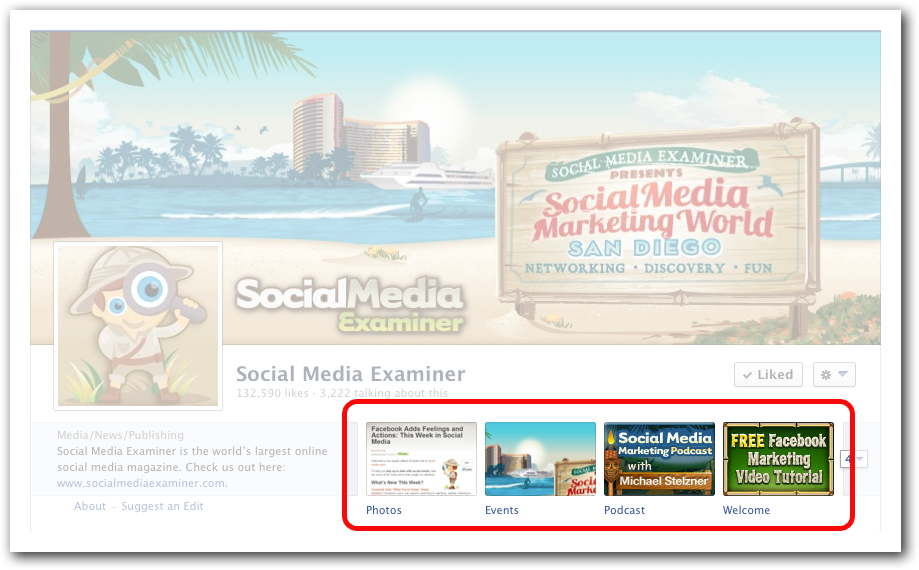 The size of the images for custom tabs are 111 x 74 pixels, and there are no limitations on the amount of text or what they can say.
The first tab is always Photos, and always shows the most recent photo you've uploaded. After that, however, you can create three "above the fold" tabs, and 12 more down below, accessible by clicking on the down arrow icon.
Behind each image is an individual page that works like any page on your website. It can include text, images, audio, video, opt-in forms, e-commerce and more.
Rather than try and create these custom tabs and pages yourself, I recommend checking out 3rd party companies like ShortStack, Heyo (formerly Lujure) or Constant Contact's Social Campaigns.
Each of these platforms allow you to create custom tabs that can require people to like you or join your mailing list to access premier information, enter a contest, sign up for a raffle or more.
5. Master Edgerank, Own the Newsfeed.
Unfortunately, studies show that only 4%–four percent, people!!—of our fans return to our Facebook page after liking it.
So why even bother? How can we engage them if only four percent return?
The answer lies in Facebook's newsfeed. The newsfeed is where most of us–and our customers–spend the majority of our time when on Facebook.
However, the newsfeed doesn't show all of the updates from our friends and the brands we like. Instead, Facebook decides for us what content we're going to see. (Yay, paternalistic social platform overlords!)
What you see in your Facebook newsfeed is based on an algorithm called EdgeRank.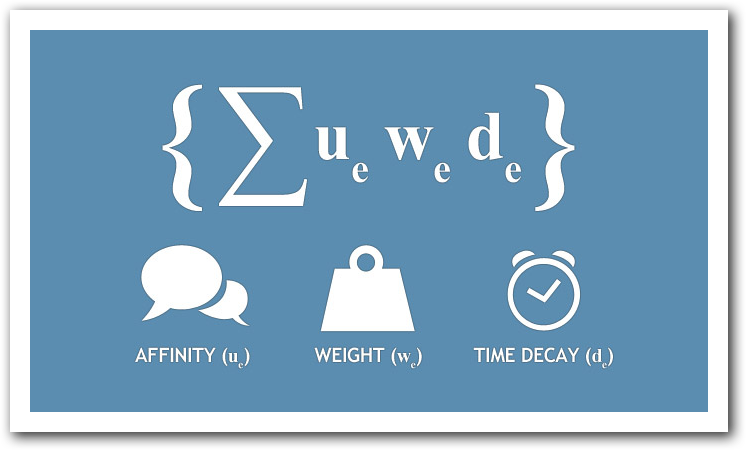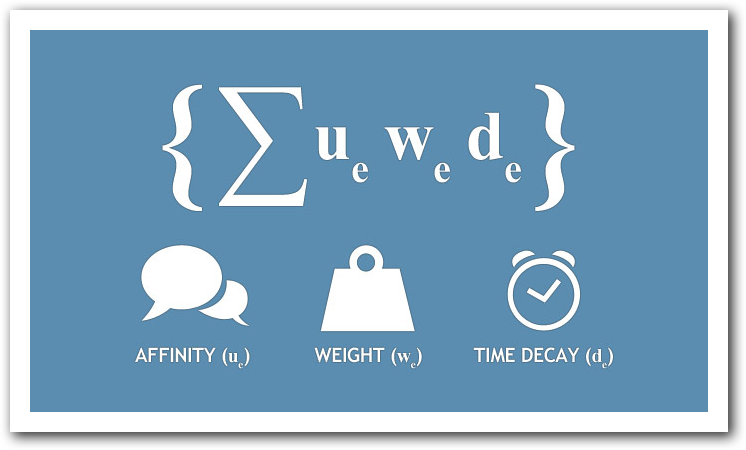 (Image courtesy of Spread Effect.)
EdgeRank has three variables:
Affinity: How much your fans like you. The more they like, comment and share your content, the more likely they are to see your future updates.
Weight: How much other people like your stuff. The more likes, comments & shares an individual update gets, the more likely Facebook is to show that update in more newsfeeds.
Decay: The most depressing way possible to say that after a while, it's just not news anymore.
To take advantage of EdgeRank and get more play in the newsfeed, you should be posting engaging content that gets your fans to like, comment & share.
While some experts tell you that you need to be posting 3 – 5 times a day, that always seemed overly aggressive to me. Find your own sustainable pace, but try and post every day (or night, if your fans are more likely to be online after the work day is over.)
6. Create Engaging Content.
It's easy to say "create engaging content," (there, I just did,) but more difficult to actually do it.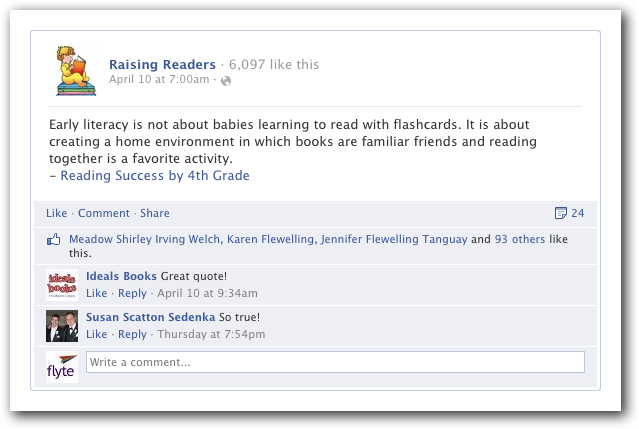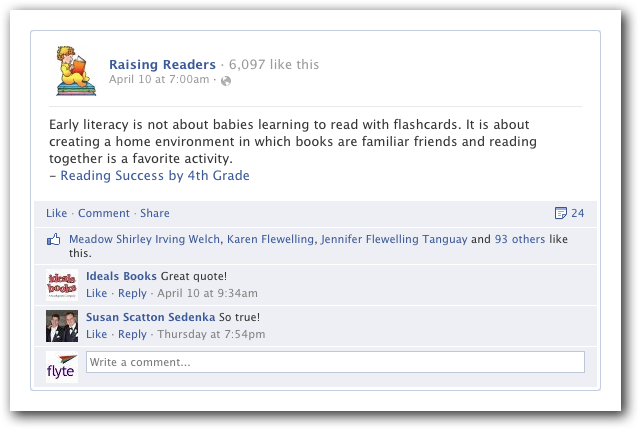 For a while every Facebook Guru, Ninja, and Consultant was saying that the best updates were photos, as they are eye-catching and fill the newsfeed.
However, now it seems that while photos get more engagement (likes, comments & shares), text updates get more views and are seen by more people.
Personally, I'm a big fan of asking questions that require short answers such as:
What's your favorite candy from childhood?
If you could have dinner with one entrepreneur–living or dead–who would it be?
What's the one room in your house that's in the most desperate need of a "makeover?"
Notice I didn't ask "and why?" in any of these questions. This is because Facebook doesn't care how long the answers/comments are, just that people take the time to comment. Removing the "why" makes it easier for people to answer, and therefore more likely.
What's right for your brand? I can't tell you. And not because I consult on such topics for pay and you're getting this for free.
It's because every business (and non-profit) is different, and you'll have to pay attention to your Facebook insights to see which is best for your business. Which brings us to the next item on our checklist…
7. Regularly Check Your Facebook Insights.
Facebook provides us with great, um, insights, into how our content is performing.
You can quickly get an overview, learn more about the demographics of your fans, see your reach, and who's talking about you.
You can also see how each post did in terms of engagement, and get insights into what type of posts perform best, at what times, and on which days.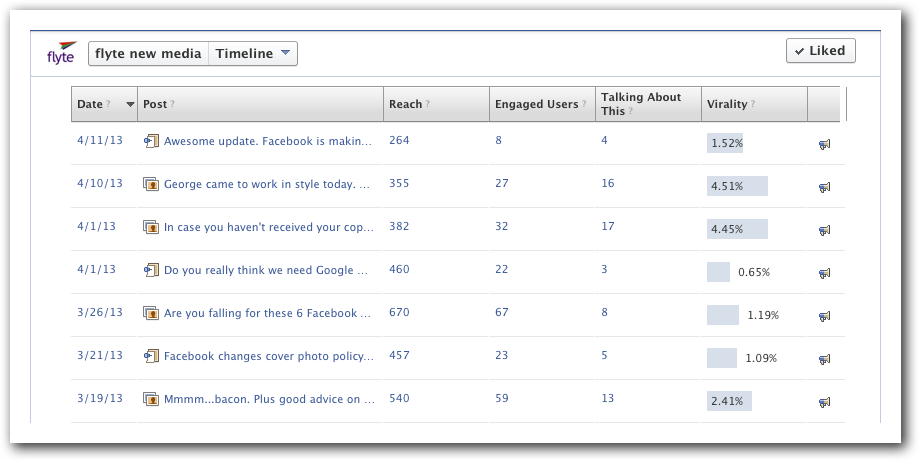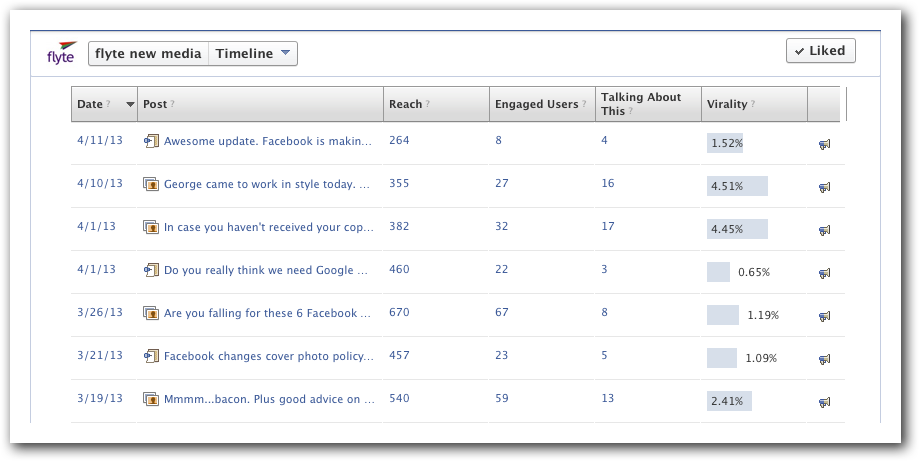 It's easy for a Facebook Expert, Rockstar and Whisperer to tell you what should work, but you'll never know until you try…and then measure.
8. Budget For Some Facebook Advertising.
Were you depressed because only 4% of your fans ever come back to your business page?
Well how about this fact: only 16% (on average) of your fans even see your updates in their newsfeed!
While this isn't as devastating as it may seem at first–most email marketing campaigns only have a 20% open rate–it's not great if you're spending a lot of time and energy on Facebook marketing and only being seen by about one out of six of your fans! People who have already liked you, and want to hear from you!
If you have something you really want to share with your fan base, or people who haven't liked your page yet, you'll need to spend some money on Facebook advertising.
The good news is that Facebook ads can be inexpensive, highly targeted, and you only pay when they work (assuming you choose the cost-per-click method.)
You can use Facebook ads to attract new fans, drive fans and non-fans alike to a custom tab page or off-site opt-in page, or just about any other type of activity.
You can also narrowly target your ads, showing them only to women, or golfers, or people under 30, or people who like sushi, or people who live in Newark, NJ, or your fans, or to anyone who's not your fan, or to friends of your fans.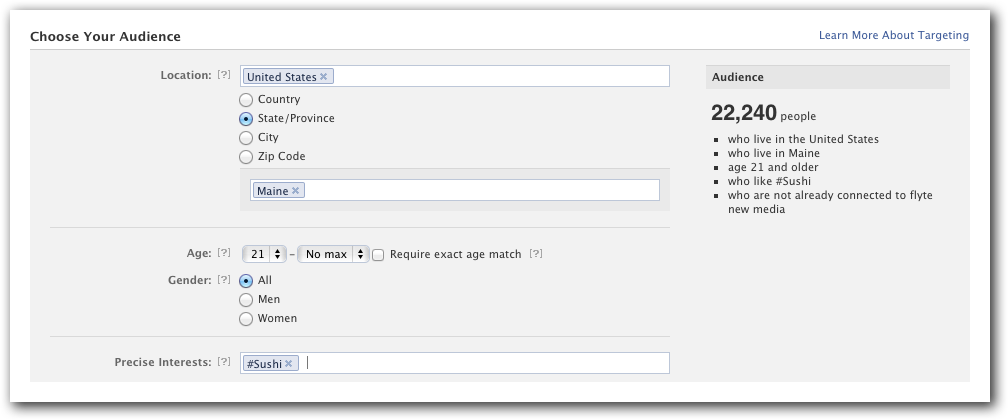 Or any combination you can imagine.
For more on some great Facebook advertising tips, check out Want to Grow Your Facebook Fans for Pennies? Here's How! and How Does Facebook Ads Bidding Work?
Takeaways
Creating an engaging Facebook business page is something that every small business can manage (although sometimes with a little help!)
Get certain things in place right from the beginning:
a vanity URL,
a great cover photo,
a recognizable profile picture, and
custom tabs.
After that, add:
regular engaging updates,
check your insights, and
advertise to build your fan base and reach your audience.
If you'd like me to review your Facebook page and give you feedback–for free!–just leave a comment down below on this post. 
At the end of April, 2013, I'll randomly select one commenter for a one-on-one Facebook consultation on your business page, updates, insights and advertising.
And if you haven't yet, please sign up for free updates from The Marketing Agents…more great stuff on how to grow your business through search, social & mobile comes every week!