Get better website traffic reports and insights by using Google's URL Builder.
Do you want more information about how people found your blog?
Do you wish you knew exactly which tweet, which email, or which Facebook update brought a new customer to your website?
Although Google Analytics provides information on your site visitors, you can get even more helpful data by using Google's URL Builder, a free tool that provides more tracking capabilities.
This article shows you how to setup Google's URL builder and start gathering more critical information on how your marketing efforts are working.
Why use Google's URL Builder?
Out of the box, Google Analytics will tell you that a visitor came from a certain URL, or came from Twitter or Facebook.
It doesn't tell you which tweet, however. You might be curious to see which turn of phrase got people to click on the link, or whether the time of day you tweeted had any impact.
Additionally, Google has always struggled with links from emails and email newsletters, often dumping them in the "Direct Traffic" bucket rather than telling you they're from your email newsletter, or which newsletter, or which link within a newsletter.
By using Google's URL Builder you can accurately track every single link you put out there that brings someone back to your website or blog.
How do you use Google's URL Builder?
Let's imagine that we have a couple of banner ads running on a local news site promoting early bird discounts to a conference. One is a horizontal banner across the top, the other an animated vertical ad. We want to determine which ad people are clicking on, but Google Analytics only tells us the traffic is coming from the news site.
Head over to the Google URL Builder page.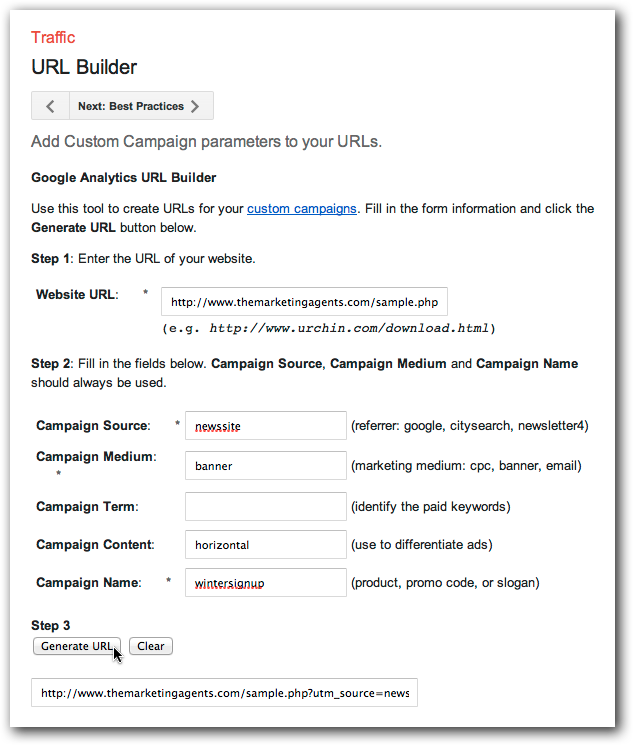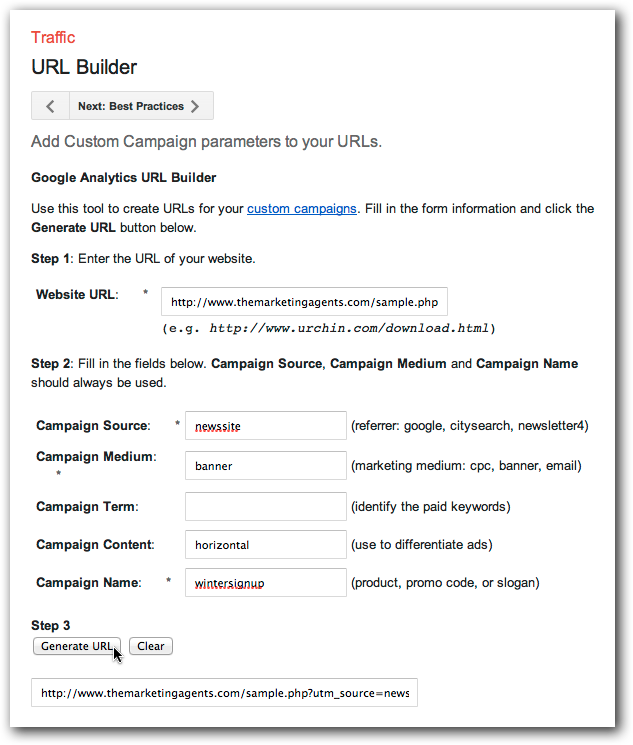 When you get there, enter in the page your banners will link to in the field "Website URL."
Next, you'll want to enter in some parameters so that you can better measure your campaigns:
Campaign Source (required): Where is this traffic coming from? In this example, we might enter localnewssite.
Campaign Medium (required): What's the platform? In this example, we might enter bannerad. Other options might be email, or CPC, or FacebookAd.
Campaign Term (optional): What paid keywords did you use? In this example, it's not applicable.
Campaign Content (optional): What you can use to differentiate ads. In this case we might use topbanner for one, skyscraperad for the other.
Campaign Name (required): What do you call this campaign? In this example, earlybird seems appropriate.
Of course, there's no hard and fast rule on how to organize your parameters; do what makes the most sense for you.
Checking Your Results
Once you've run your campaign you'll want to visit Google Analytics to see the results.
In the left hand menu choose Content > Site Content > All Pages. In the list of pages, find the landing page for your campaign.
If it doesn't appear in the top 10 you can either change the number of pages that show in this list, hit the right arrow button at the bottom of the list, or use the search/filter box above the list (the one with the magnifying glass.)

Once you've clicked on the URL of the page you'll land on a new page. There will be a Secondary dimension pulldown menu. I recommend choosing Traffic Sources > Medium (although there are other reports, too.)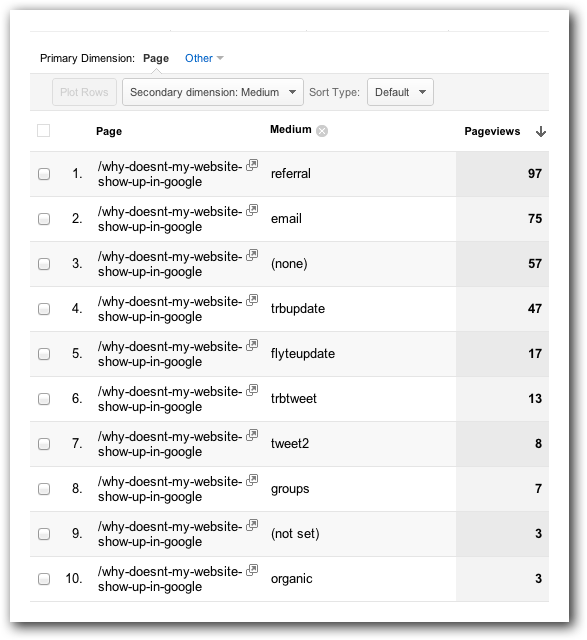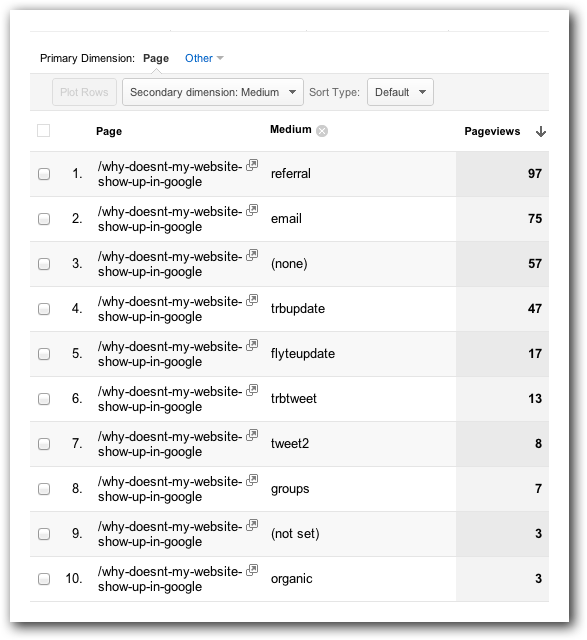 Here I can see that excluding untracked referrals and direct traffic that my email blast was most effective, followed by my personal Facebook update, flyte's Facebook update, @thericbrooks's original tweet, my second tweet, and then the post I put into one of my LinkedIn groups.
Going forward, I'll probably give the tags more description so I don't have to think so hard on which was which.
Google URL Builder Takeaways
While you may not have the time to test every campaign, it's probably a good idea to occasionally get more insight than 100 visits came from Facebook. 
This will give you more insight into whether you or your business drives more traffic to your blog, and even which type of tweet is more likely to get clickthroughs.
What do you think? Is the Google URL Builder worth the effort? If you try it, please let us know by leaving a comment.
And, if you found this valuable, and you have a friend who's struggling with their online marketing, please share this post with them! 
Thanks!
Oh, one last thing: on 1/30 I'll be doing a free webinar on Google Analytics at 2pm ET. Even if you can't make it, you should register, because all registrants will be able to watch a recording of the webinar on demand.
Rich Brooks
As Seen On That Webinar