One of the best ways to spice up any blog is with good photography. But if you're posting, once, twice or three times a week, those blog photos can get expensive.
[Heads up! Here's a newer edition of Free & Cheap Stock Photography Sites for Your Blog!]
If you're looking for good, affordable, legal stock photography for your blog, you do have some options. I recently needed an image for a blog post on creating the perfect blog post (I know: pretty meta, right?) and fell down a rabbit hole, looking for a cheap photo for the post.
Here's what I found from doing some research on a dozen or so different stock photography sites that have a blogger's budget in mind. 
In trying to give you a fair comparison, I had to balance the following:
Some sites offer individual downloads, some offer subscriptions, and some offer both. I noted this as best I could below.
Some offer bulk pricing. I used a budget of $100 to come up with a cost per credit.
The smallest web-friendly versions differed from site to site.
The quality and desirability of the photos weren't always equal.
My idea of what makes for an attractive photo will differ from yours. But mine is correct. 😉
Because of all this, although I wasn't comparing apples to oranges, I was comparing Macintoshes to Granny Smiths.
For the purpose of this exercise I chose to do a photo search on the phrase "blueprints."
1. Pond5 – The World's Stock Media Marketplace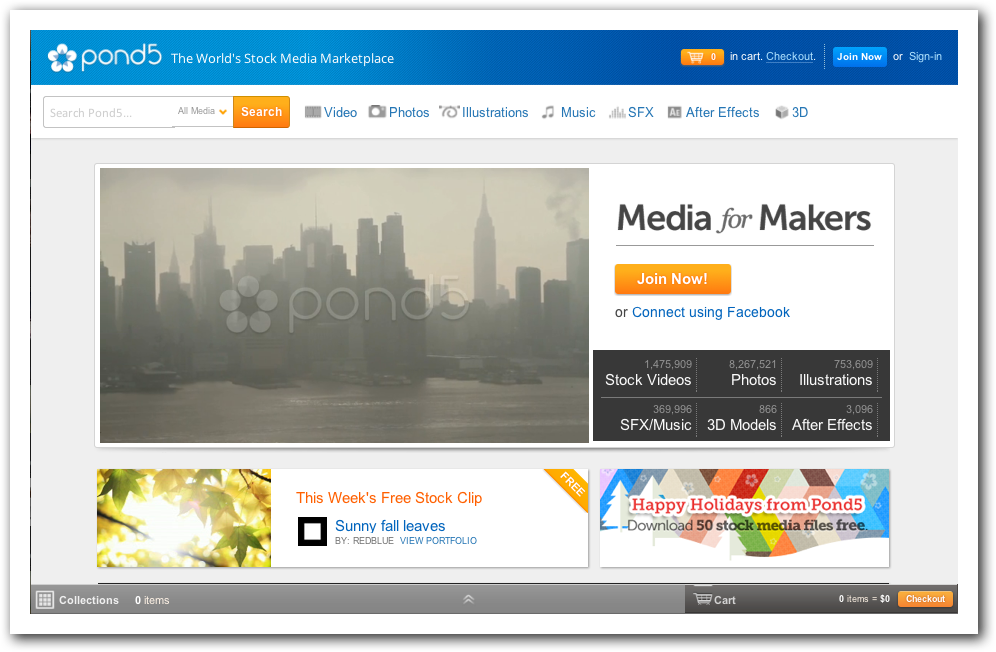 Pond5
Results: 9,086 stock photos, 109 vector illustrations
Size: 632 x 474
Cost: $1.95
Intangibles: Pond5 has a lot more to offer than just photos. First page had relevant results of "blue" prints, as well as related media, and super cheesy photos of models wearing hardhats who had obviously never been on a worksite in their life.
Results page offers some nice related searches, and one odd one: blueprint, blueprint interior, construction, relationships.
Decent sort features, including artist, date uploaded, duration, name, number of sales, page views and price.
2. YAY Images – Great Images at Budget Prices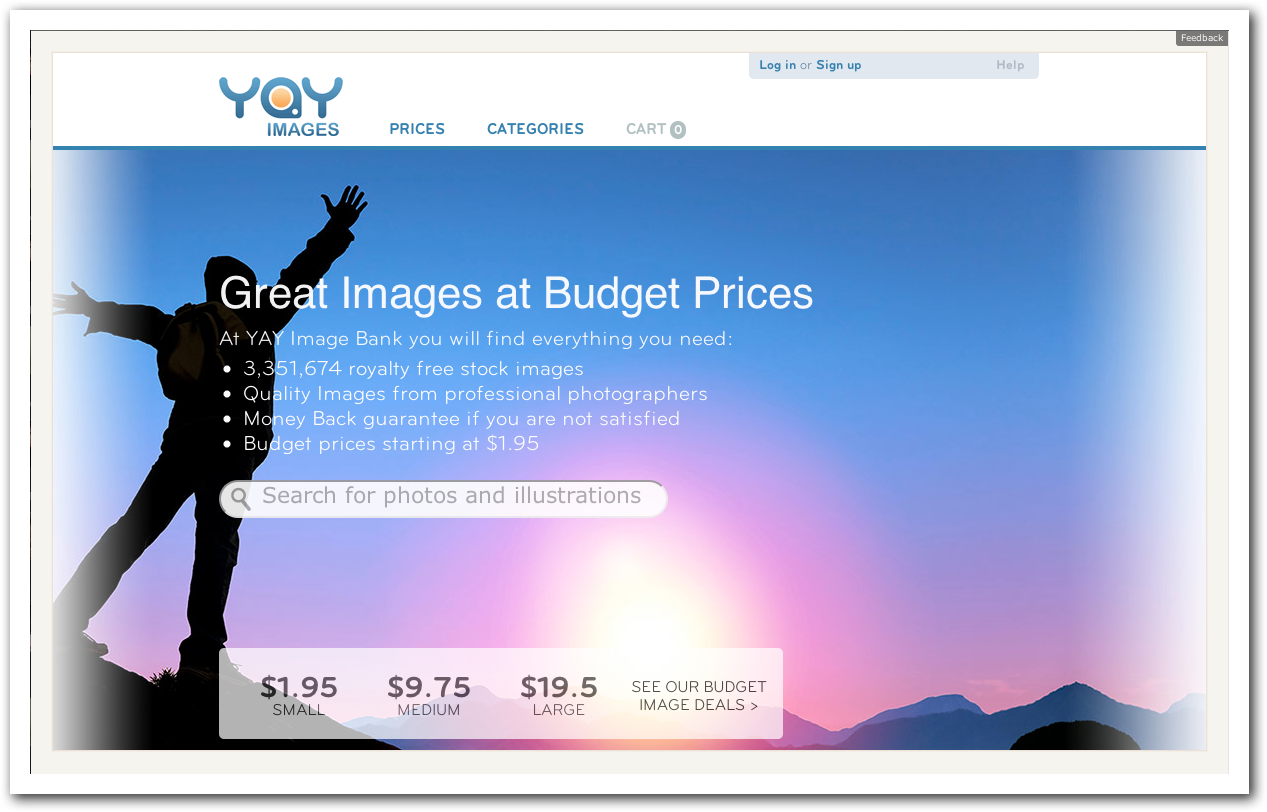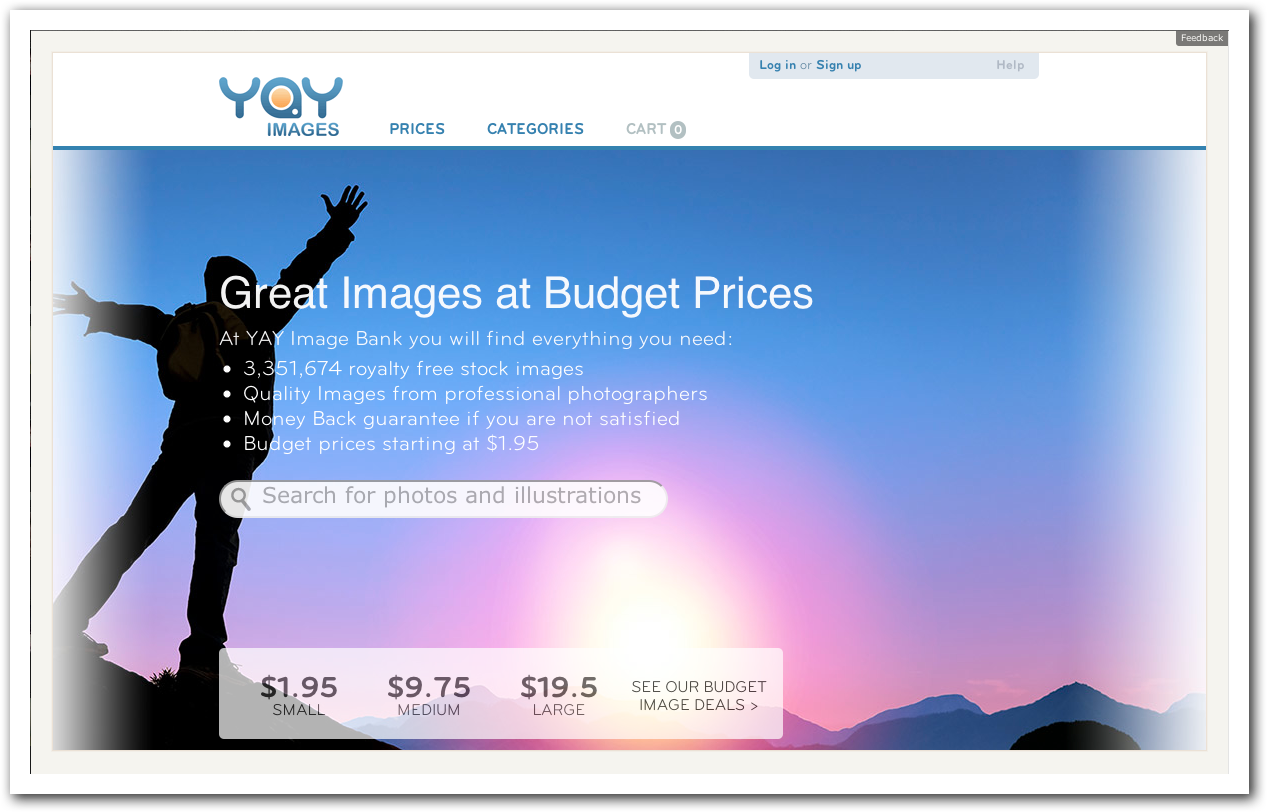 Yay Images
Results: 6,015
Size: 633 x 475
Cost: $1.95
Intangibles: Most of the results on Yay's first default page were photos of rolls of blueprints, or cheesy actors…not what I was looking for. However, as I changed the default from 15 photos to 100, on the second page I found what I was looking for, an actual blueprint. (Of course, you might have been searching for what I skimmed over.)
Interestingly, it was the exact same photo as I found on Pond5. Apparently a lot of the budget stock photography sites use the same sources.
YAY also offers bulk pricing, but for some strange reason it's only offered for large photos, so there's no discount for bloggers.
3. iStockphoto – Royalty Free Stock Photography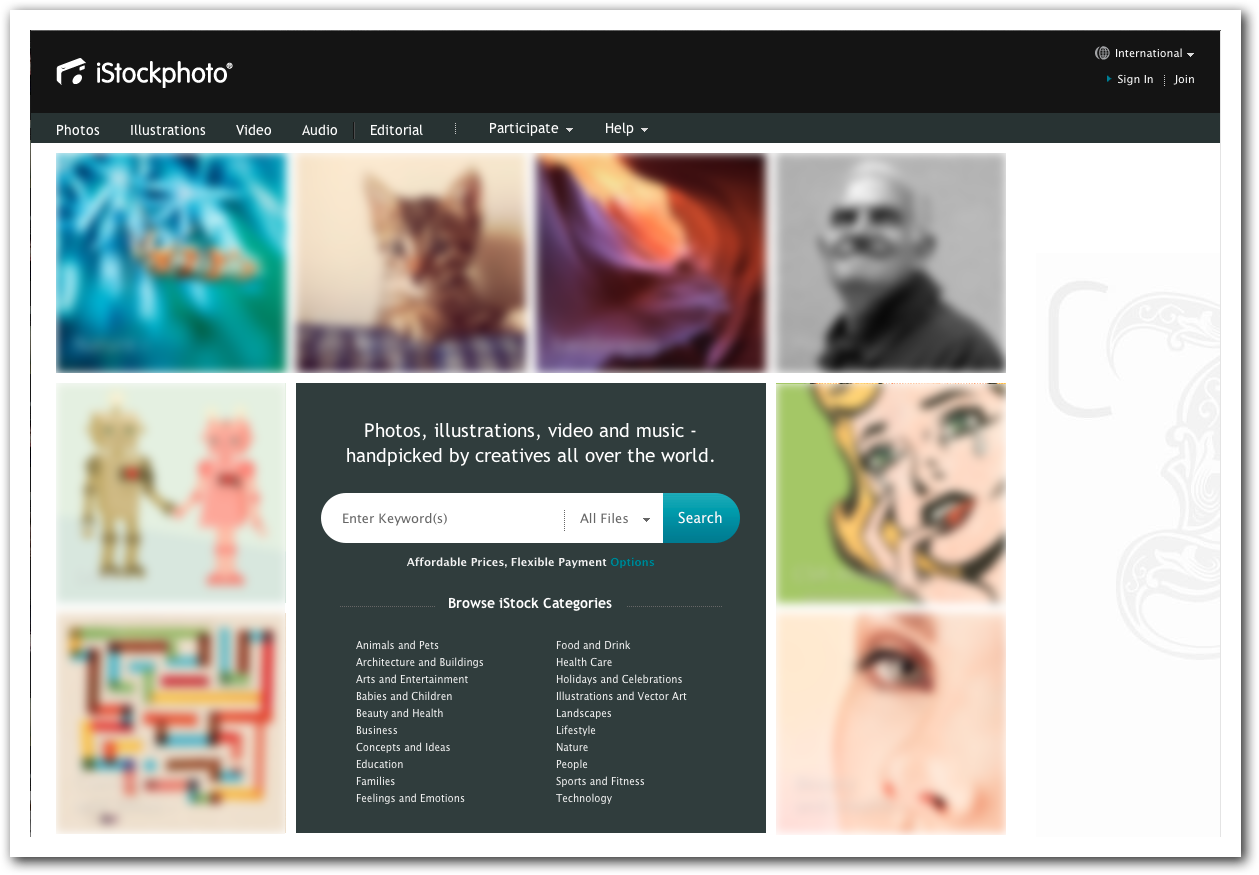 iStockPhoto
Results: 21,615
Size: 425 x 282
Cost: 10 credits/$19 (bulk credit pricing: $15.80)
Intangibles: This site offers a great library of amazing photos and videos, great search tools, great filtering tools, but it's just become way too expensive for daily use. I go here when I need that fantastic photo for a big presentation.
I miss the old iStockPhoto.  😥
Note: I blurred the images here because a friend was sued by Getty, the owner of iStockPhoto, for a screen capture image. I'm hoping this is enough.
4. Dreamstime – Download Stock Photography and Royalty Free Images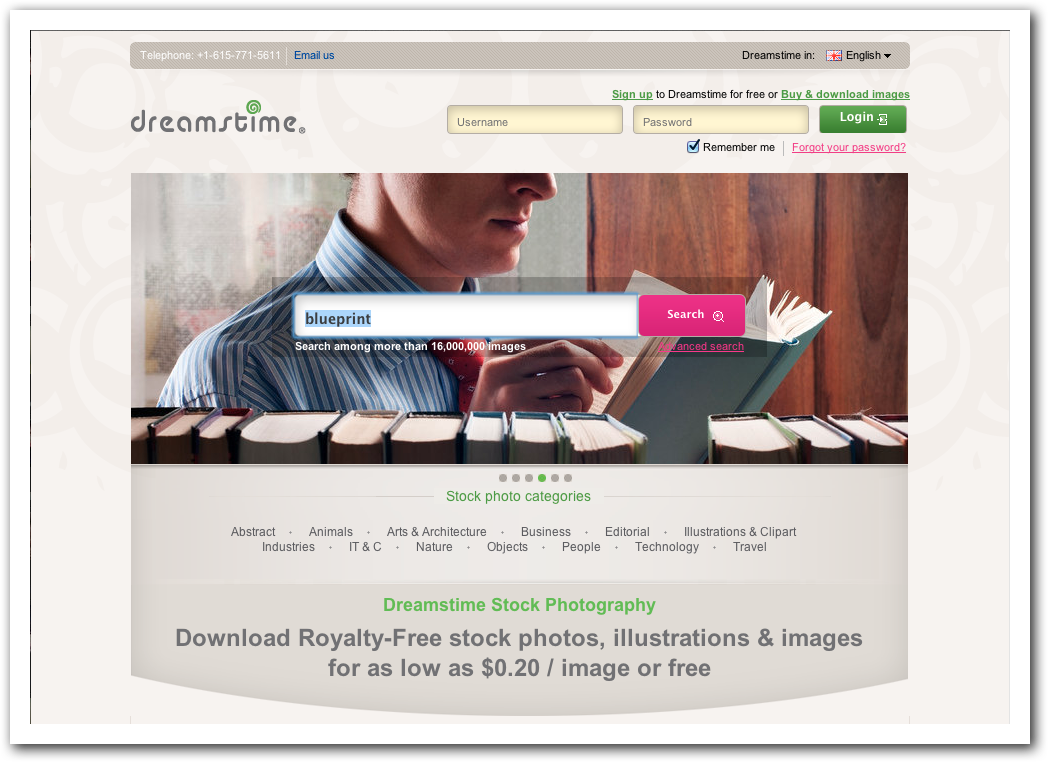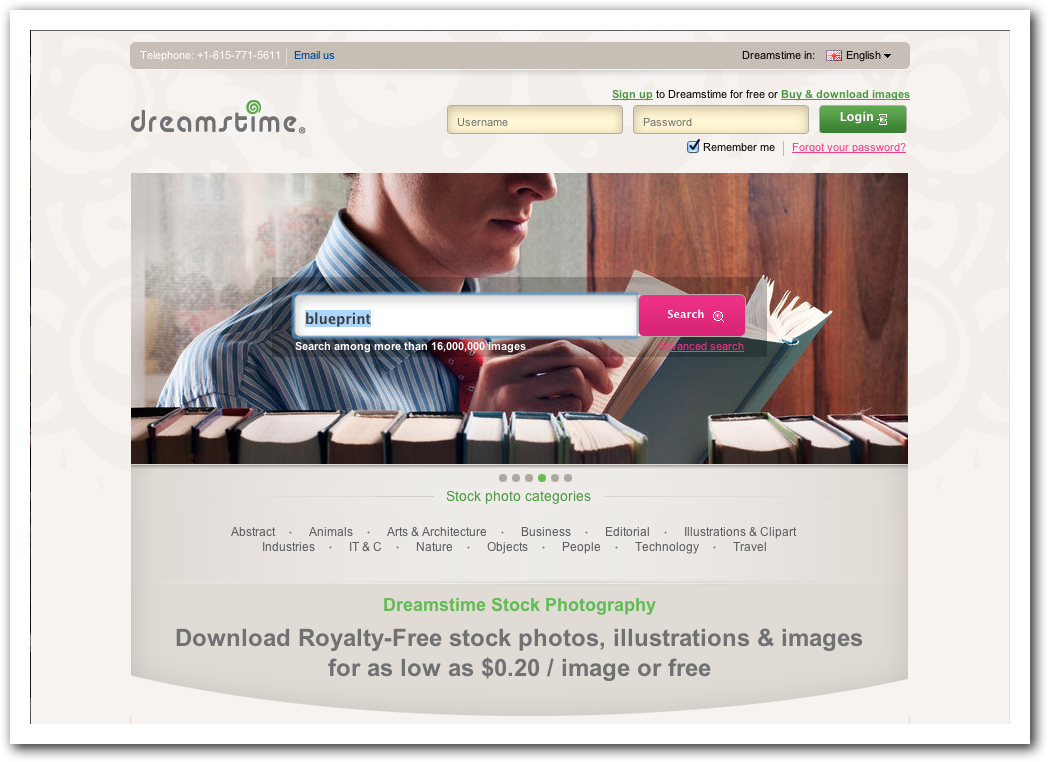 Dreamstime
Results: 5,541
Size: 363 x 480
Cost: 11 credits (bulk credit pricing: $10.18)
Intangibles: Dreamstime also offers time based subscriptions, which is why they can advertise images as low as $0.20/image. The lowest subscription package is one month of 25 downloads/day for $239.99 (750 images.) More expensive and longer term plans offer better discounts, but for a blogger, $239.99 – $3,739.99 may be a bit expensive.
I didn't find the type of image I had envisioned, but there were certainly good images on the site.
5. 123RF – Royalty Free Stock Photos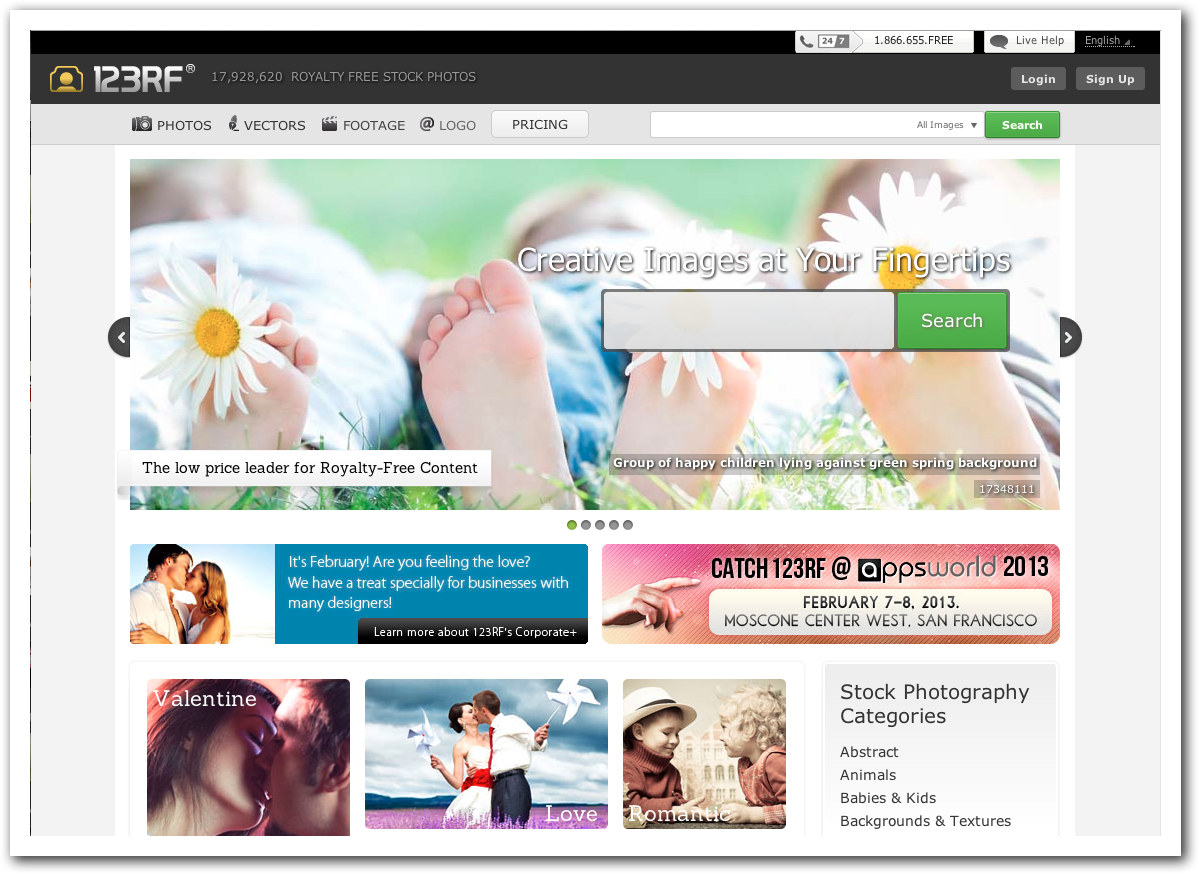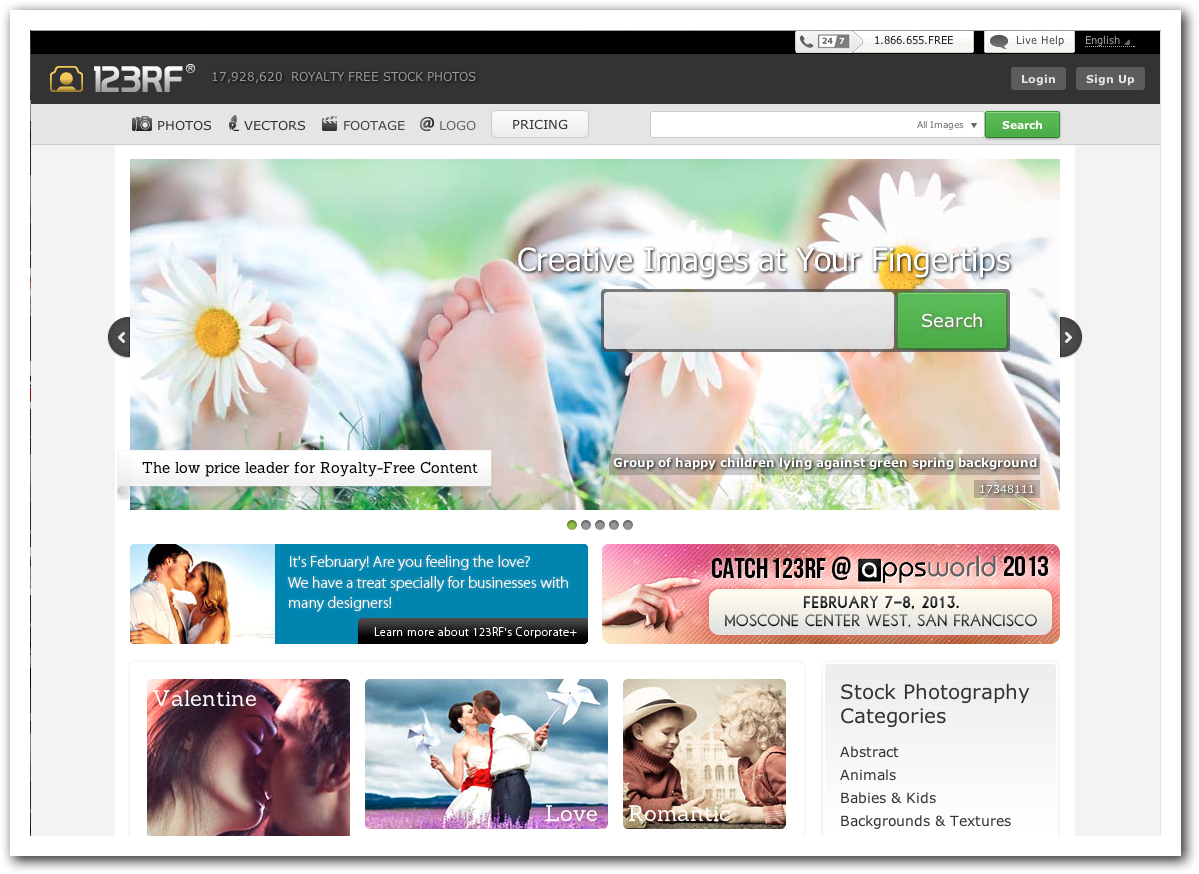 123RF
Results: 4,818
Size: 400 x 286
Cost: 1 credit (bulk credit pricing $0.89)
Intangibles: Although I didn't see the image I had in my head, there were plenty of good photos to choose from on this site, and at $0.89/photo, you can be blogging daily and still have enough for that latte.
They also had good filtering tools for the search, including how many (if any people) you wanted in the photo, if you wanted babies, and the color of their skin.
6. Bigstock – Images for Everyone.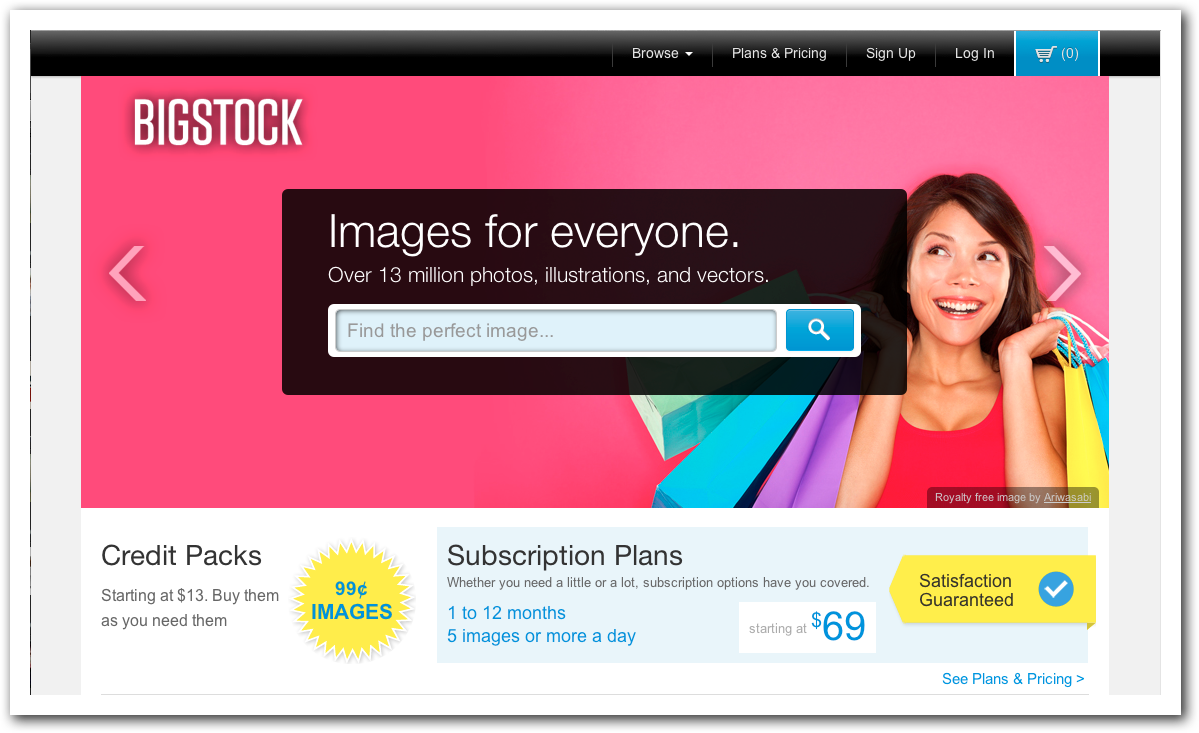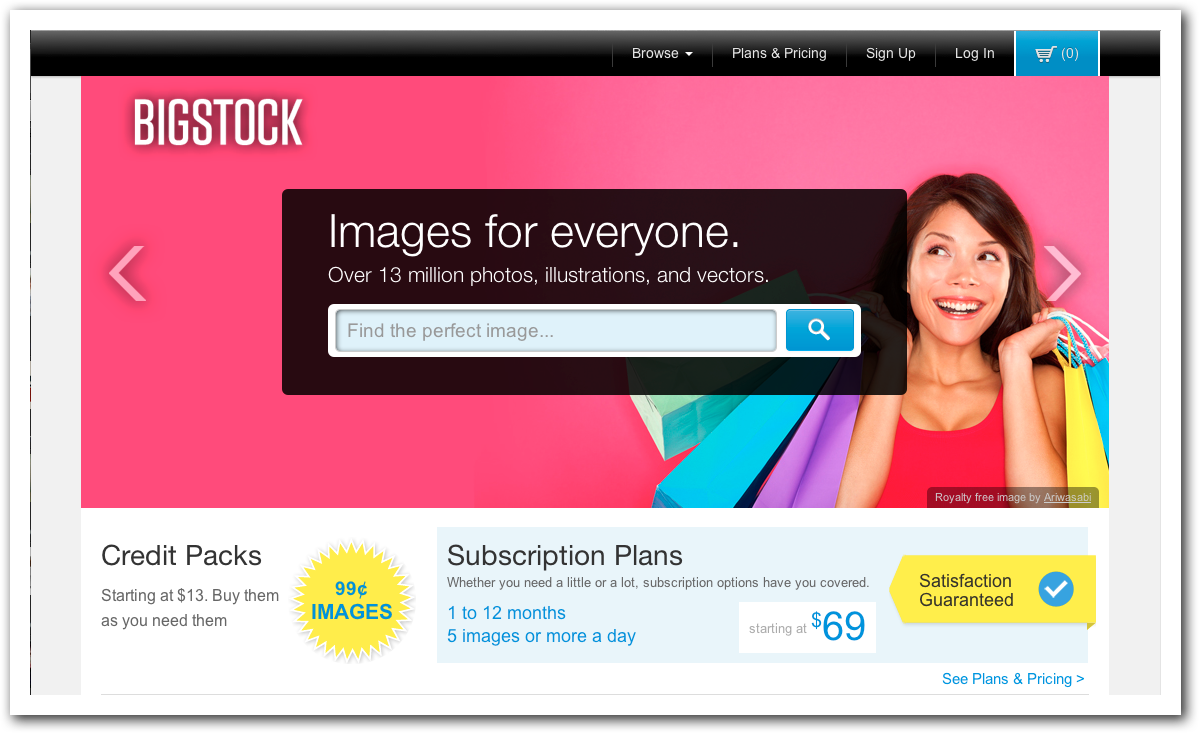 Bigstock
Results: 24,356 (Wow! But I wonder how relevant the last 20K are.)
Size: 900 x 598 (I guess they don't call it BIGstock for nothin'.)
Cost: 1 credit (bulk credit pricing $2)
Intangibles: Bigger sized images than most of the others, and still a really good price. Although I liked some of the other sites' choices more, the photos here were still professional and it could come down to personal preference.
Site offers monthly subscriptions, too. Least expensive option is 1 month of 5 downloads a day for $69, or $0.46/image. Not a bad idea for a multi-author blog.
7. Fotolia – Royalty Free Images, Photos, Vectors and Videos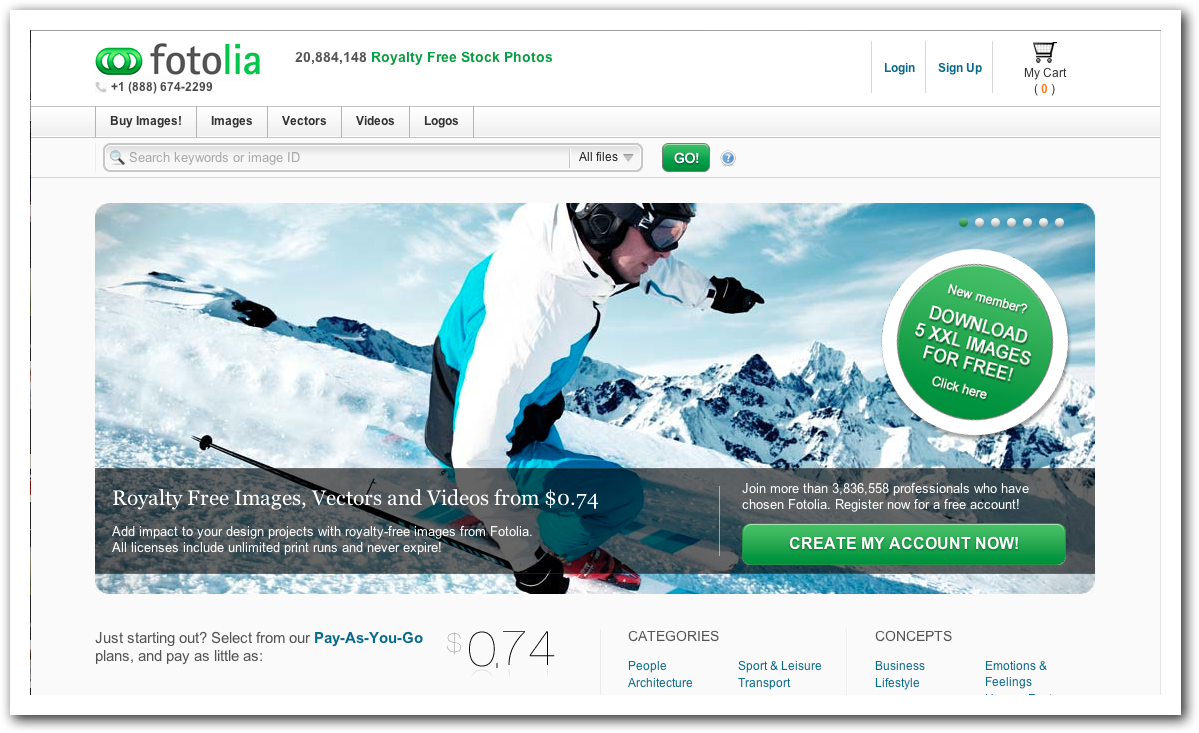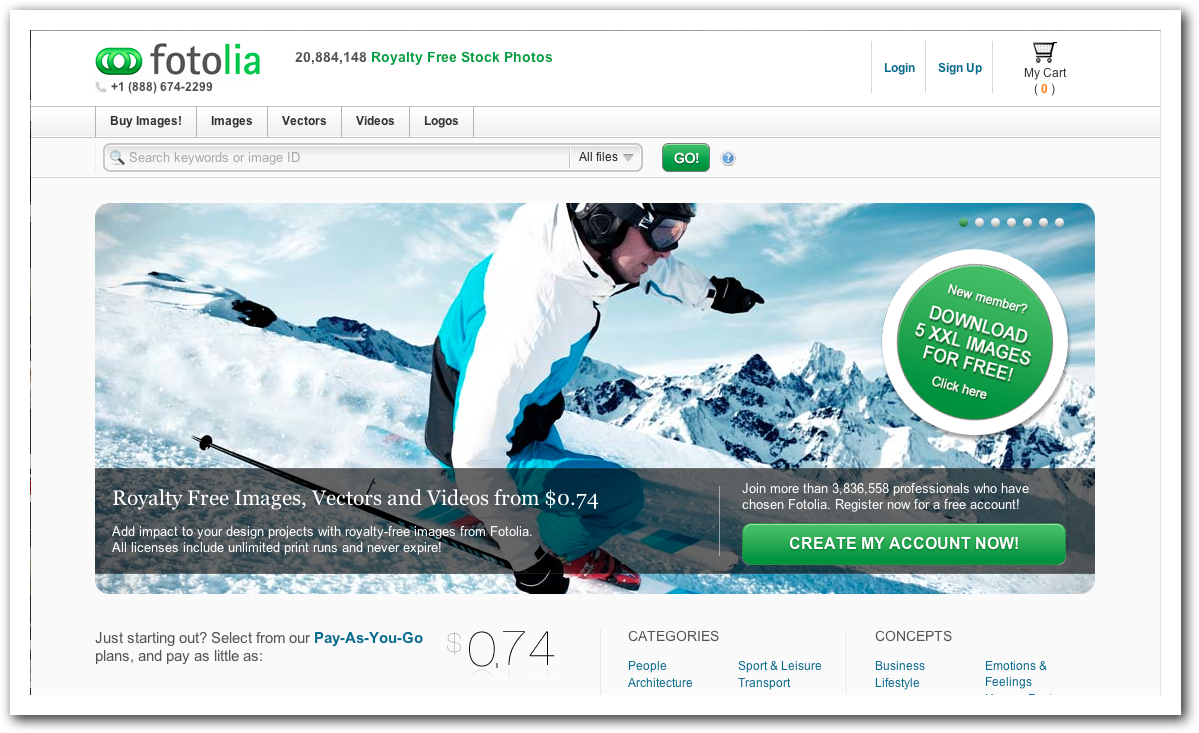 fotolia
Results: 6,415
Size: 425 x 283
Cost: 1 credit (bulk credit pricing $1.27)
Intangibles: There were some nice photos in my search…and some really cheesy clip art. I never found the blueprint image I had in my mind, but I did find other good photos of blueprint plans and related imagery. Good pricing, too.
Fotolia also offers both monthly and daily subscriptions. The cheapest monthly plan was one month of five downloads for $20, but you could scale up to 5K downloads per month for a year for a measly $50,625. 😉
The daily subscription offer is a little confusing, because you still have to buy a month's worth. The cheapest offer was a month of 25 downloads/day for $249, or $0.33/download.
8. Media Bakery – Millions of Curated Stock Photos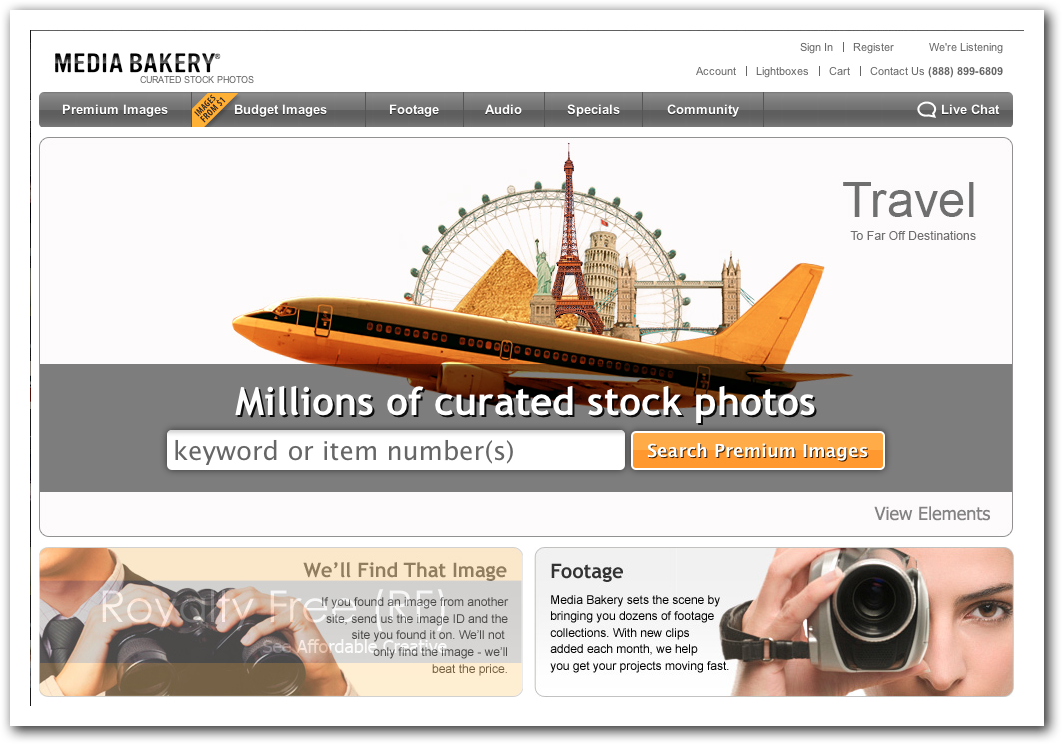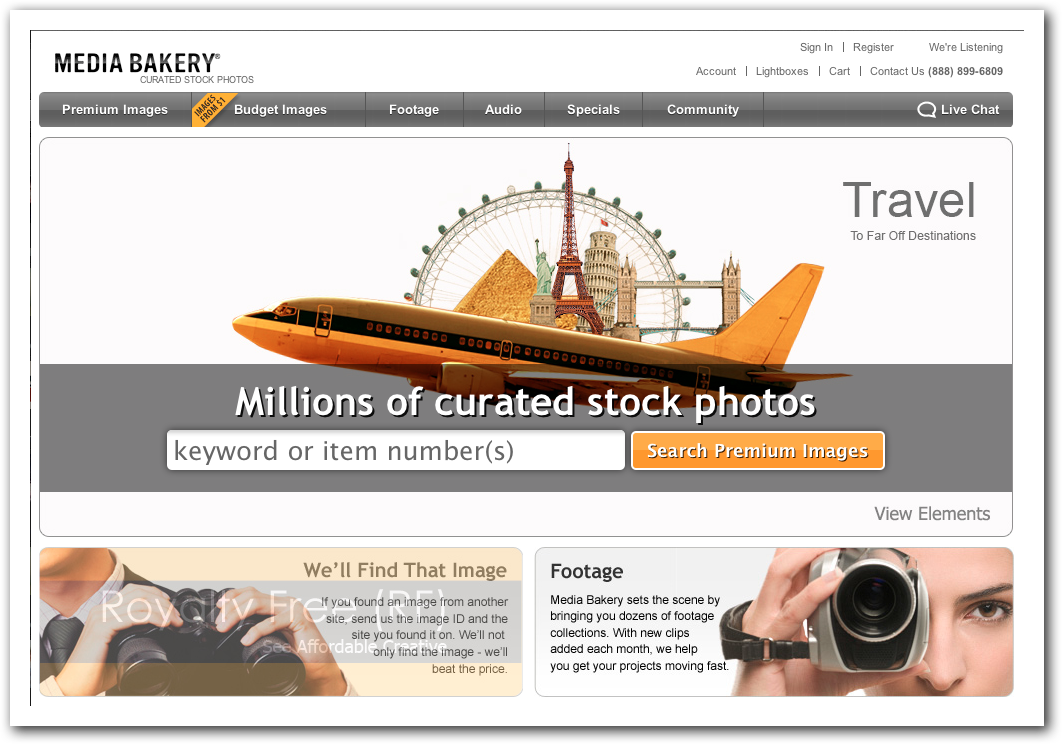 Media Bakery
Results: 4,000 (approx.)
Size: 360 x 504 (which is odd, because the image was slightly landscape)
Cost: $5
Intangibles: This site had been recommended by a friend so I checked it out. I had to dig deep to find blueprint imagery. Most of the first few hundred photos were people and architecture centric.
I was then pretty surprised when the photo was listed at $149!! However, I then found that they offer Budget Images from $1. I re-searched in that section.
I was even more disappointed with the collection here, but eventually did find an alright image that I'd consider using. However, at $5, it's significantly more than some of the other budget sites out there.
9. Shutterstock – Over 20 Million Stock Photos, Illustrations, Vectors and Videos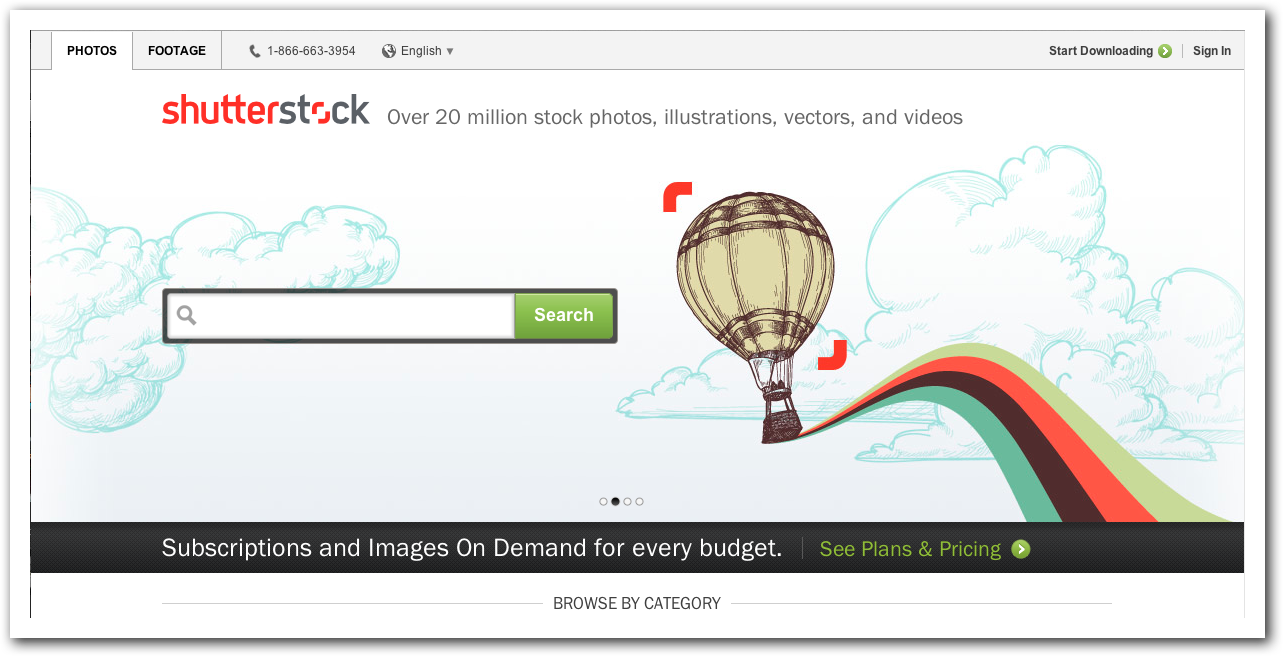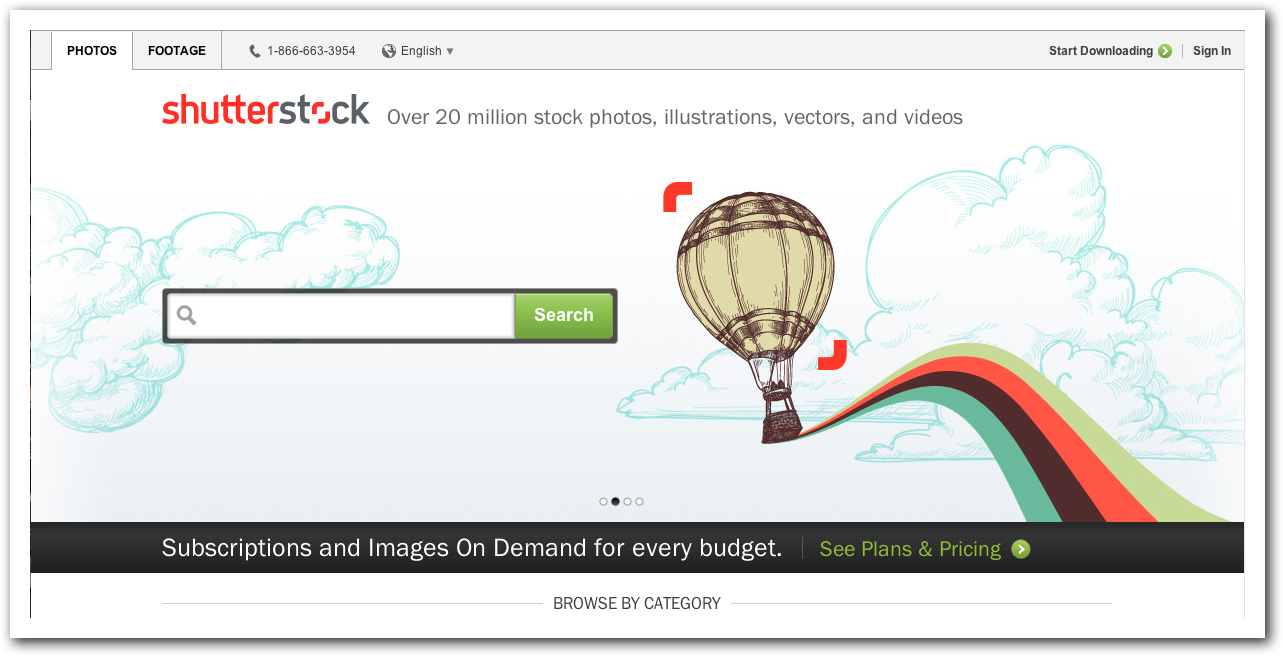 Shutterstock
Results: 20,674
Size: 452 x 500
Cost: $19
Intangibles: This site has a great selection of high quality photos and vector art. Search and filters were top notch.
Definitely not a "budget" site, though. However, they do offer subscriptions starting at 1 month of 25 images per day for $249, which is pretty competitive.
10. Depositphotos – Royalty-Free Stock Photos, Illustrations and Vector Art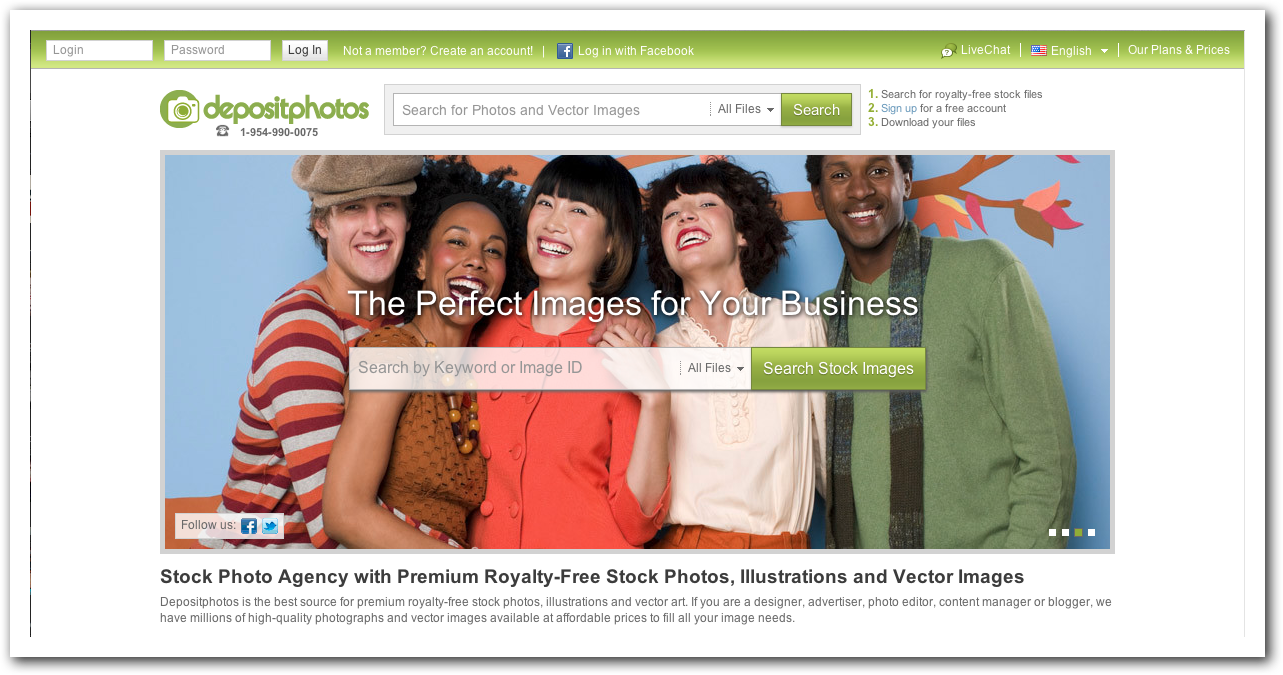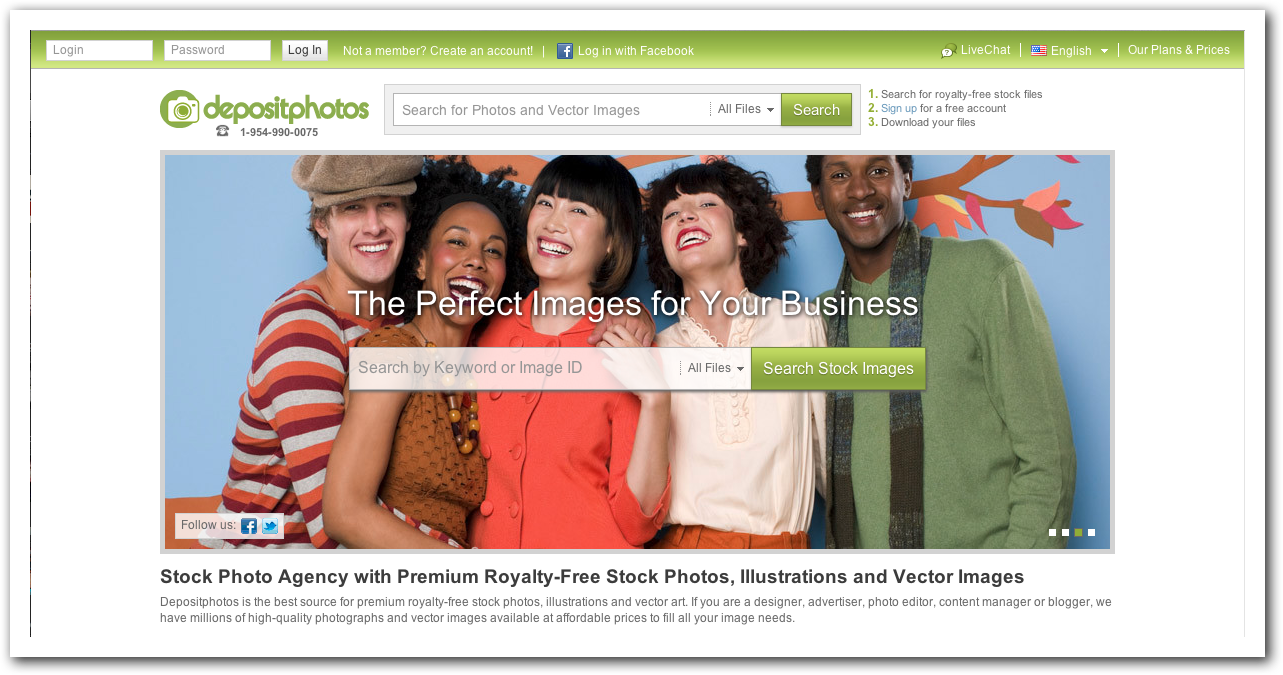 depositphotos
Results: 23,828 (photos and vector art)
Size: 400 x 300
Cost: 0.8 credits ($0.79)
Intangibles: Depositphotos has a wide selection of photos, robust search and filter tools, and very aggressive pricing.
They also offer subscriptions, the cheapest one being 1 month of 5 images/day for $69 ($0.46/image) all the way up to 12 months of 200 images/day for $10,999 ($0.15/image).
11. Stock.xchng – The Leading FREE Stock Photo Site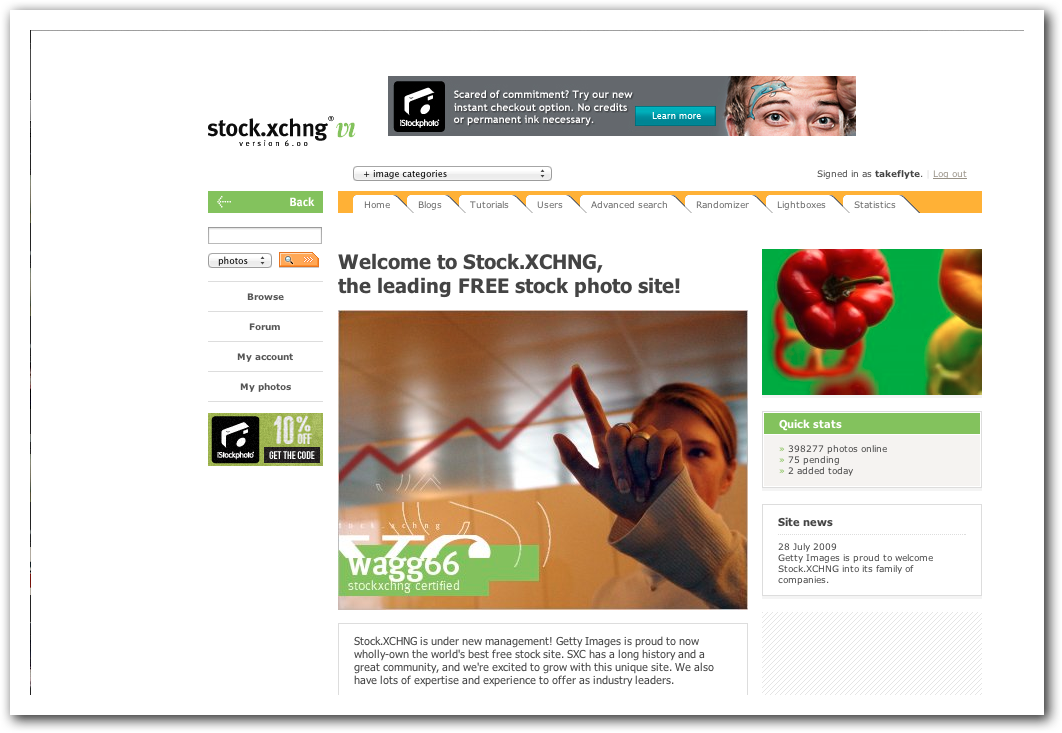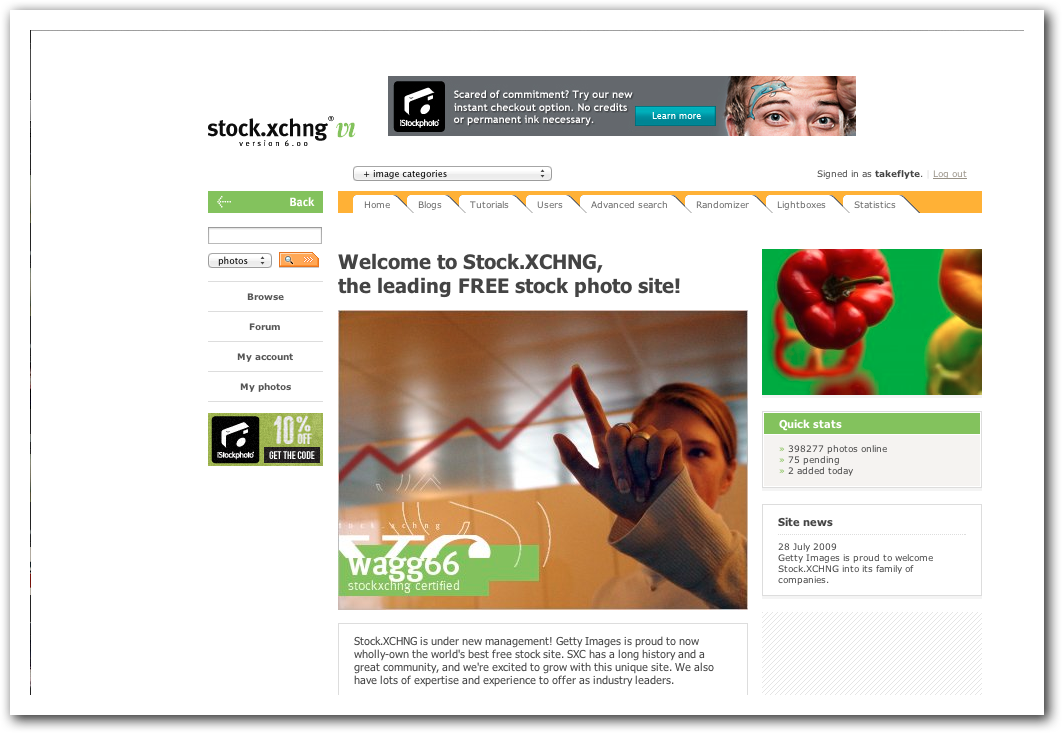 stock.xchng
Results: 2 (yes, two.)
Size: 1,200 x 1,600
Cost: nada. zip. zilch.
Intangibles: This is a free site with a very limited supply of images, but I actually found one I liked, even though it wasn't blue.
This site was purchased by Getty at some point, and now seems to mostly be a tease for people to "upgrade" to iStockPhoto.
However, you can't beat the price.
12. Flickr / Creative Commons Attribution License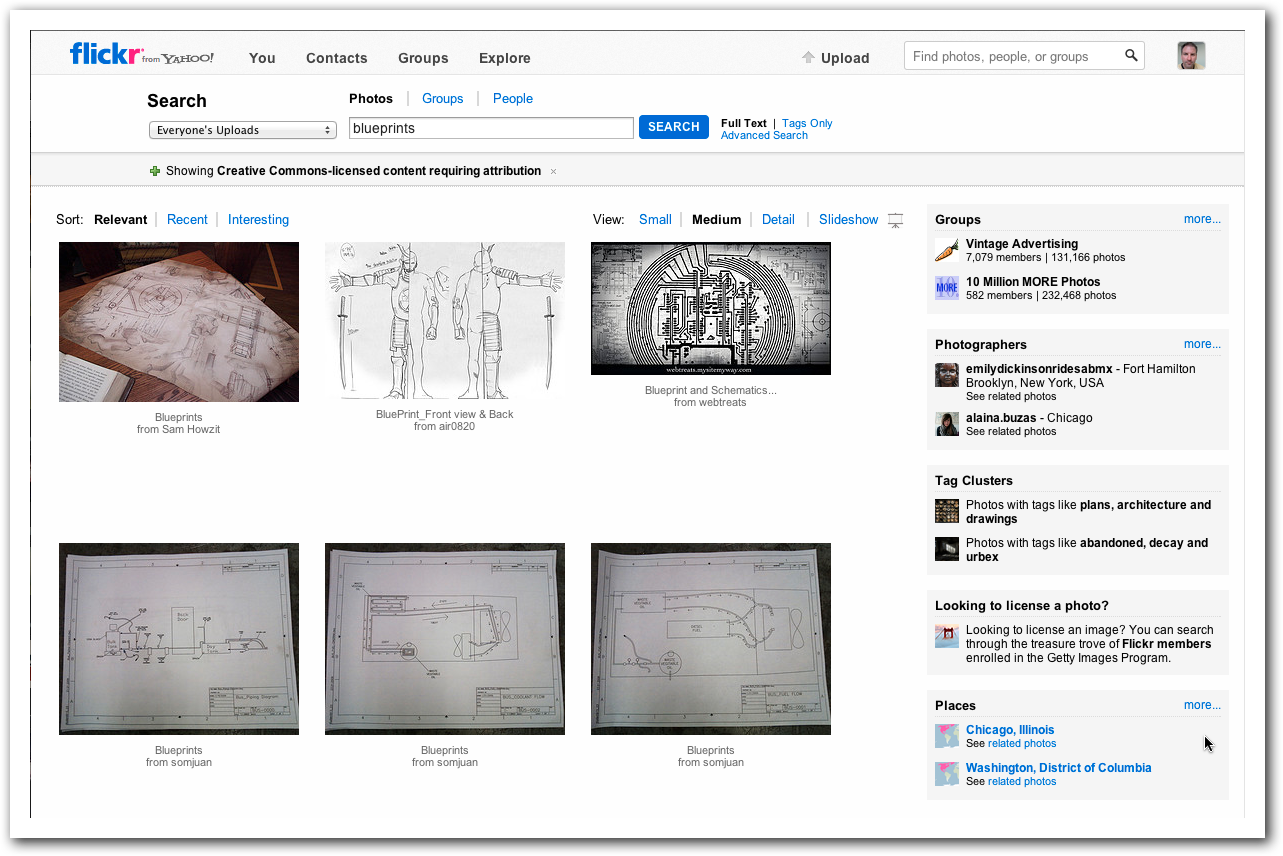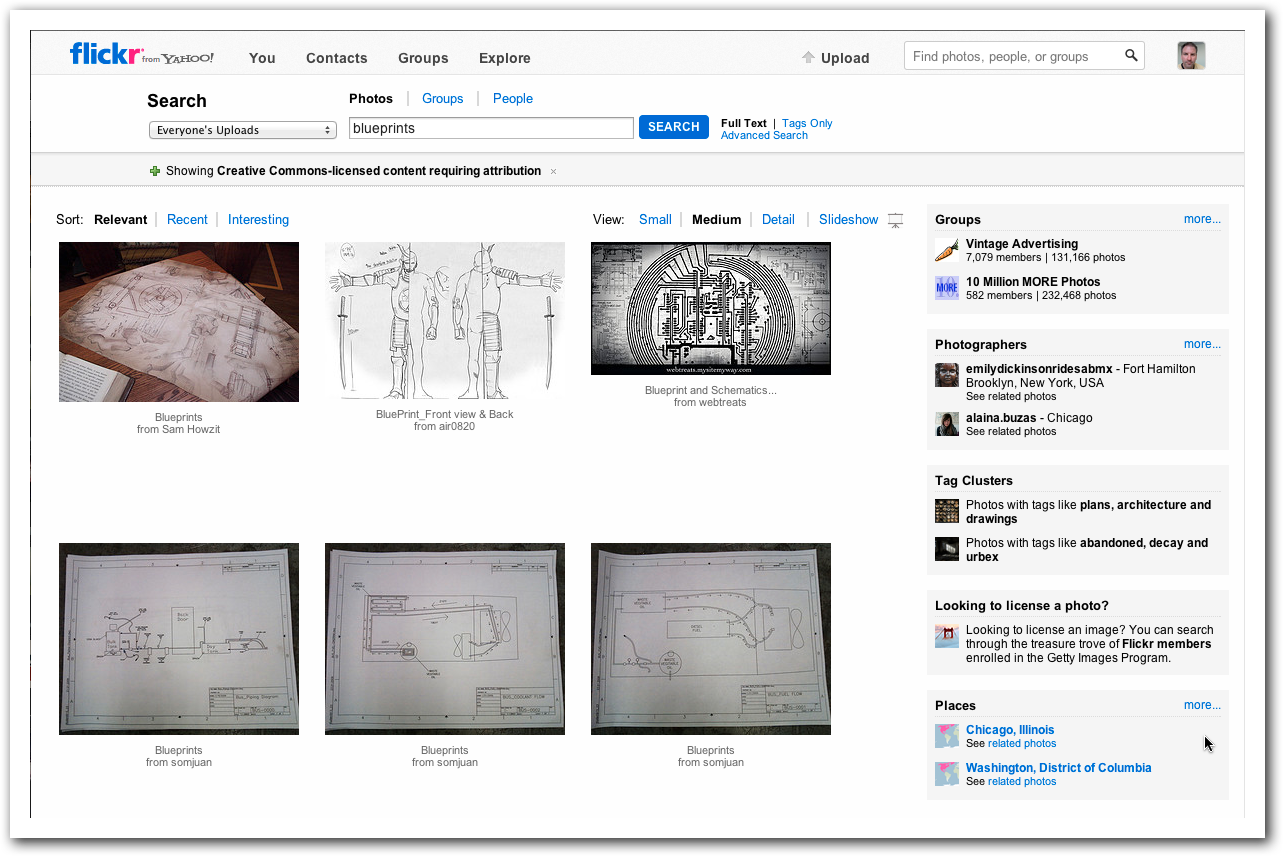 flickr / Creative Commons Attribution License
Results: 988
Size: 240 x 160 to 1200 x 800
Cost: nada. zip. zilch.
Intangibles: Creative Commons is a new approach to licensing work. Creators can choose one of six licenses to share and/or protect their work.
Inside Flickr, you can search for images that allow you to use them for commercial purposes (i.e., a business blog), with just a simple attribution link.
I didn't find the exact image I was looking for here, but I did find some cool images I could work with. I recommend starting with the Relevant sort, which is default, then switch over to Interesting if you don't see anything you like.
13. Your SmartPhone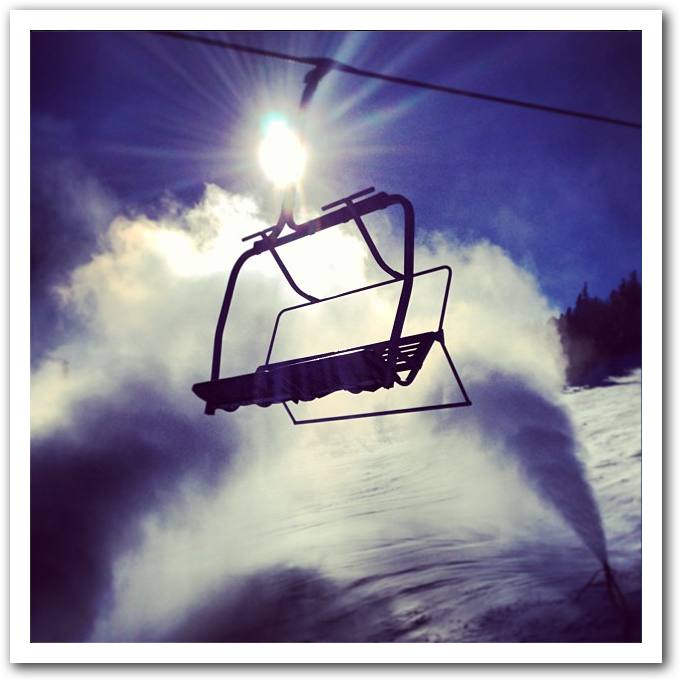 Results: Infinite
Size: 3264 x 2,448 or so
Cost: nada. zip. zilch. (Um, after the cost of your phone, touch or tablet.)
Intangibles: My friend Dave Weinberg of cellphoneSketchpad suggested this option, since "why go stock when you have am 8MP cellphone in your pocket…"
Of course, as I pointed out to Dave, I have used this solution many times over the years, but I don't always have a blueprint, fire hose or blue whale lying around the office for photos ops. 😉
Still, even if you're a mediocre photographer, you can run your picture through an editor like Instragram and get fantastic results.
Takeaways
[Before I sign off, please check out our updated list of free and cheap royalty-free websites for all you social media needs.]
There are plenty of free and low-cost resources for bloggers looking for photos. If we forgot any of your favorites please give them a shout out in the the comments below.
If you know of any bloggers that could benefit from some free or inexpensive stock photography for their blog, please share this post with them!
And if you got something out of this post, please consider signing up for our free email updates. You can do that right here: