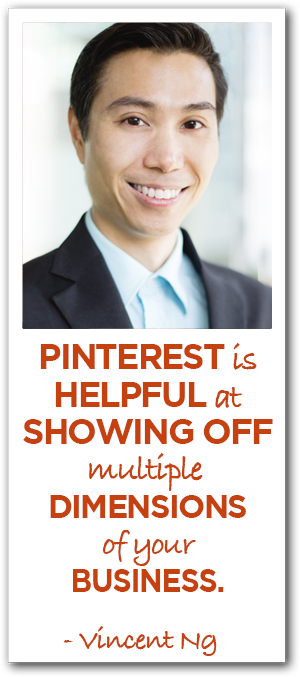 What do you know about Pinterest marketing?
Do you think Pinterest is just a source for crafty, DIY projects and wedding planning?  Think again.  Pinterest is proving to be a powerhouse in the digital and social media marketing world.
By taking advantage of Pinterest's visual platform, you can implement a few clever tactics that will drive more web traffic and get more sales for your small business, all while revealing a true personality behind your brand.  Learn how Google and Pinterest work together, and how your business can leverage search for their own pins while reaching their target audience.
Vincent Ng is a Pinterest marketer, blogger and author dedicated to sharing everything he knows about Pinterest and how it can give your business a leg up on your competition, both in SEO searches as well as web traffic.   
Podcast: Play in new window | Download
Subscribe: RSS