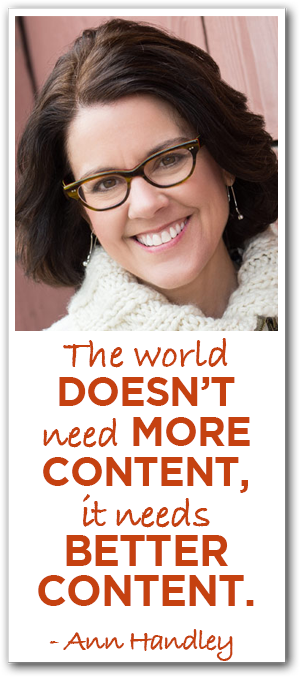 Whether you are a good writer, or just think you are, creating marketing content for your business is no easy task. Ensuring that content is of the utmost quality can be downright daunting. It's time to stop feeling like a deer in the headlights and start rethinking the way your business markets.
Communication with your audience is a privilege, so give them content that inspires engagement and truly serves the needs of your business. Understanding the writing process – whether it's a blog or a simple tweet – and how to create a dialogue versus a monologue will serve your business well. Swapping places with your reader will give you a chance to see things from their perspective so that you're better prepared to answer the questions that they want to know. Don't just create more content, create better content.
Ann Handley is a content superstar. As the Chief Content Officer of Marketing Profs, keynote speaker and author of two bestselling books, Ann proves that she knows a thing or two about creating smart, engaging, effective marketing content that helps make businesses successful.
Podcast: Play in new window | Download
Subscribe: RSS