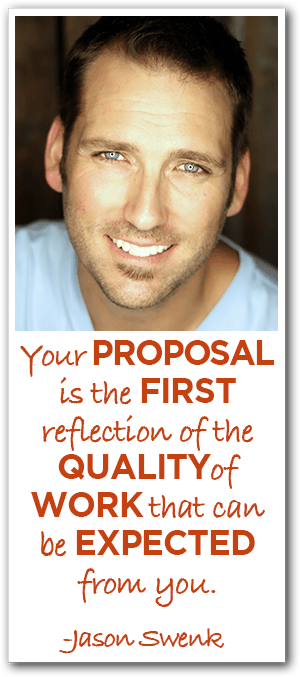 Have prospective clients told you that your proposals were difficult to understand, or too lengthy to navigate through?  Are you looking for a way to make your proposals stand out among your competition and take your business to the next level?
By following a simple 8-step template process when writing your business proposals, you can get to the meat of what your client's need and explain to them how you can provide it.  As a result, you will be able to eliminate the same mistakes your competitors are making and increase your closing percentage.  After all, your proposal is the first reflection of the quality of work that can be expected from you.  
Jason Swenk ran a successful digital marketing agency for over 12 years before selling it to focus on sharing valuable information to help others take their businesses to the next level.  Jason's successful 8-step proposal template will help you to "wow" your clients and set you apart from the competition.  Stop making the same mistakes and start closing more business deals with Jason's tested and effective tips and tricks.
Podcast: Play in new window | Download
Subscribe: RSS
Podcast: Play in new window | Download
Subscribe: RSS